written by Sekgabo Kedijang
Transport Month
As a young girl from Umlazi in Kwa-Zulu Natal, Londiwe Phoswa (33) barely knew that maritime jobs existed or that she would one day have a career in the maritime industry.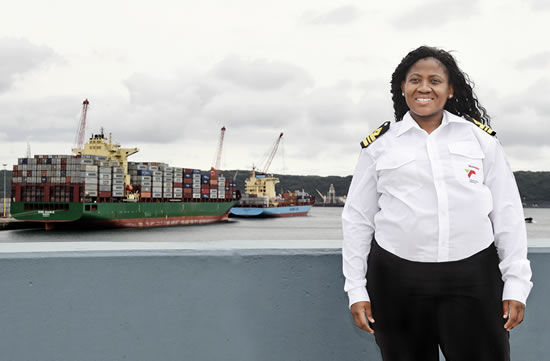 "Growing up I didn't want a job where I would be in an office behind a desk. My cousin told me about this very unique industry and exposed me to it. I just fell in love with it," explains Phoswa.
In 2005 Phoswa started an intense Cadetship programme with Unicorn Shipping, where she worked on three ships until she completed sea time in 2008. She then went on to obtain a license as a third officer/ deck officer.
In an interview with Vuk'uzenzele Phoswa explained that she joined Transnet and began training as a Tug Master where she learnt how to navigate ships in and out of the harbour safely. She was also responsible for moving vessels by pushing or towing ships upon entering or exiting a port.
A Tug Master commands powerful boats used to assist ship movements in ports and harbours.
"Once you work as a Tug Master you can train to become a Marine Pilot. The theoretical work takes approximately six months followed by practical work that takes an additional year," said Phoswa.
As a Junior Pilot, Phoswa's average day at work includes checking weather conditions, harbour drafts and traffic. She can do a minimum of three shipping movements per shift which takes approximately an hour and a half.
Her love for the scenic views and interacting with people are among some of the things she enjoys the most about her job.
"The most satisfying part of my job is when the vessel sails safely from the harbour and the Captain is pleased with the way the vessel was handled."
The state of transport in South Africa has come a long way in terms of transformation however the need for more exposure still exists.
"I still come across people who have no idea how to get into the industry and people who think that the maritime industry is simply about driving a ship," she said.
With October being Transport Month, Phoswa encouraged young people to choose their subjects in high school wisely.
"Mathematics and Physical Science are a must. This field is not for quitters, you need tenacity and perseverance," she said.