At just 20 years old, Sandile Kubheka from KwaZulu-Natal is the youngest doctor in the country.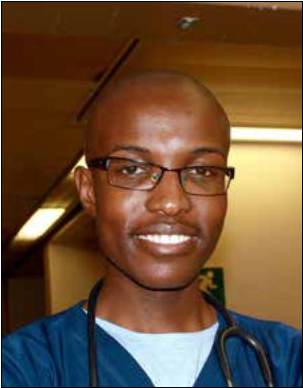 The shy, yet brilliant young man started school at the age of five and has excelled in the classroom since then. After just three months in Grade 6 at the Jobstown Primary School in Masondeza, Madadeni, he was promoted to Grade 7
"School work was so easy. I was able to grasp information and recall it very quickly, which made me breeze through school," he says.
He was 15 when he matriculated from Siyamukela High School, also in Madadeni and started studying towards a degree in Medicine and Surgery (MBChB) at the University of KwaZulu-Natal's Nelson Mandela School of Medicine.
He completed his degree last year, making him the youngest medical graduate in the country. "When I first heard that I was the youngest graduate, I could not believe it. I was very honoured," he says.
Kubheka graduated with distinctions in ob- stetrics and gynaecology.
Despite excelling in the classroom, Kubheka admits that being the youngest in the class came with its fair share of problems.
"I was confronted with social issues like my friends going out and drinking alcohol. Academically we may have been on the same wave length but socially I was very young." The biggest challenge, he says, was learning cook, clean and budget his finances.
"I came from a home where I didn't have to wash my own clothes, cook my own food or worry about budgeting my money for the month. In the beginning my sisters would laugh at me because I was young and they said I could not take care of myself. It was tough but I have grown and learnt a lot."
Kubheka's age earned him the nickname 'neonate' (meaning a newborn) from his classmates. However, this did not deter them from voting Kubheka as most likely to be the Minister of Health one day soon.
"If it allows me to continue making a difference and improving health care for all South Africans, then yes, being Health Minister one day would be a dream come true," he says.
A passion for helping others led Kubheka to the medical profession and keeps him focused. This, he says, was passed on to him by his mother Khangezile, who raised him and his four older siblings on her own.
"She always taught us to do our best in everything and to be grateful and grounded."
While at medical school, Kubheka chose to serve on the Rural Development Club, and the Medical Student's Representative Council. Kubheka also gave free medical advice and treated patients in rural communities at the Happy Valley Clinic and the Madadeni Hospital. These efforts earned him the Yashiv Sham Bursary for having compassion and caring qualities and the Enid Gordon Jacob Good Fellowship Prize for character and good conduct.
"Giving back to my community is very important to me," he says.
Currently, Kubheka is completing his internship at three hospitals - Grey's, Edendale and Northdale in Pietermaritzburg.
His goal is to complete his Master's degree and become an endocrinologist - a specialised doctor who studies diseases that affect the glands.
Kubheka's advice to the youth is to always be focused and give their best. "No matter how young or old you are, never give up," he adds