Youth matters
Engineering student and part-time DJ Mandla Maseko is set to become the first black African to venture into space.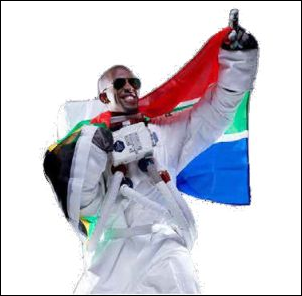 he 25-year-old, from Mabopane in Pretoria, will have the chance of a lifetime when he spends an hour in space on the Lynx Mark II Shuttle in 2015.
Maseko's journey to space started when he entered the Axe Apollo Space Academy competition in August last year.
"I was on the couch at home when I heard a radio advertisement calling for people to enter a competition to win a trip to space," he explained.
Maseko entered the competition, along with hundreds of other South Africans and had to send in a photograph of him in mid-air and explain why he wanted to go to space.
He sent a picture of himself jumping off a two-metre wall in his backyard. His explana tion read: "I want to defy the laws of gravity and go down history as the first black South African in space."
His entry was one of 30 selected to compete in the first set of challenges at a space camp in the Free State. In one of the challenges Maseko had to skydive off a plane at 10 000 feet.
Maseko made the cut, together with Dean Roddan and Haroon Osman from Johannesburg and went to the Kennedy Space Center in Orlando, Florida in December last year.
The three competed in the next round of gruelling challenges with 109 other competitors from across the world.
Here he endured battling G-force in a "vomit comet", conquered obstacle courses and had to build and launch a rocket.
"We had to do air flight simulation, air combat and a zero gravity flight. You name it, I completed it. Unfortunately we could not get our rocket to launch but we earned points because we were judged on bravery, enthusiasm and teamwork," said Maseko. Asked about the "vomit comet", Maseko explained, it was a room that started spinning and where the floor disappeared.
"You end up being pushed against the wall by G-force and the challenge was I had to pick up five flags under me and place them above my head. I nailed it."
Maseko and the five other finalists then headed to the plane stunt. "We were taken up in a plane to about 4 000 feet (1 219 metres) above the ground and had to sit steady while the pilot did a few manoeuvres like turns, twists and loops. It was incredible."
After a final written test, Maseko was announced as one of the 23 winners from across the world by legendary spaceman and competition judge Buzz Aldrin, who was the second man to walk on the moon. On graduation day at the space centre, Maseko heard the news that former President Nelson Mandela had died. "At that moment I felt the sense of h i m handi n g me the t o r c h and telling me to continue. I knew I had to keep at it and do my best to make him proud."
Maseko's trip to Florida was the first time he had been out of the country.
"I am a typical kasi (township) boy so I had not travelled a lot but I knew I was destined for greatness," he said.
Maseko added that he had always felt t h a t it was his duty to do the best he could to inspire those around him.
To help empower local youth, Maseko has joined the Department of Science and Technology's education drive and visits schools across the country to motivate youth.
"This is what I am meant to be doing and one day people will be telling their children and grandchildren that I was the first black South African in space."
Maseko will be the second South African, after billionaire Mark Shuttleworth, to travel to space.