Written by More Matshediso*
Fifty-four pupils from Gonyane Primary School in Bloemfontein were among the first group of girl learners in the country to be vaccinated against the Human Papilloma Virus (HPV).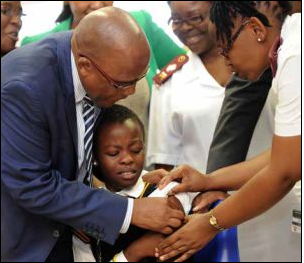 he Grade 4 learners, aged between nine and 10 years, are beneficiaries of the country's HPV vaccination campaign.
Health Minister Aaron Motsoaledi, along with his Deputy Gwen Ramokgopa, launched the vaccination programme at the Free State school recently.
"About 130 countries across the globe are vaccinating young girls for HPV. So far, about 170 million children have been vaccinated worldwide and I am proud to say the number has increased by 54 today," said the Minister. The Minister, who lost his mother to cervical cancer, said negotiating for the HPV vaccine to be accessed freely by South Africans had not been a walk in the park.
"Breast cancer is a leading deadly cancer in women, followed by cervical cancer… but we do not have a vaccine for it. Since we have a vaccine for HPV, let us help one another to fight cervical cancer," said Minister Motsoaledi. Three thousand health workers have been trained to work in the HPV vaccine programme across the country.
The Minister explained that girls would take a second dose of the vaccine after six months and would then be vaccinated once every year. Minister Motsoaledi said that at some point, Free State recorded the highest maternal mortality rate compared to other provinces but those figures have declined.
"Free State was chosen to launch this programme with the aim of lowering maternal mortality, even more so because most women aged between 35 and 55 years die of cancer," he said.
About 16 million women over the age of 15 are at risk of cervical cancer in South Africa. The Department of Health aims to reduce cervical cancer related deaths gradually within the next two to three decades through the vaccine programme.
Speaking at the launch, breast cancer survivor Asante Shongwe shared her ordeal and how she dealt with the disease.
"I grew up like any other child from a humble background. Unlike the others, I was raised by a single mother. I paid the necessary attention to my school work and that helped me understand my situation and cope with cancer better than I could possibly have," said Shongwe.
She stressed how important it was to educate learners about cancer.
"I stand before you without two breasts but I am healthy, my mind is in a good state... Lack of knowledge and ignorance is what kills most women," Shongwe said.
First Lady Thobeka Mabhija-Zuma expressed her support for the HPV vaccine programme at the launch, saying she would do all she could to ensure the success of the programme.
"Today South Africa is investing in the future of our young girls," said Mabhija-Zuma, who is the founder of the Thobeka Mabhija-Zuma Foundation.
*More Matshediso works for GCIS in the Free State