Nontsapho Faku and other residents of Mbizana in the Eastern Cape have struggled for years to get clean water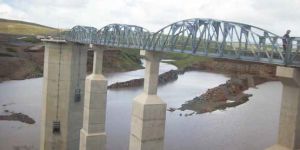 Currently, they rely on the river and temporarily installed taps and sometimes go a week without water.
All these struggles for clean water will be a thing of the past thanks to the construction of the Ludeke Dam.
"We want water badly in this area. We are struggling to get water. We fetch it from the river and share it with cattle. We are very grateful that we will soon get clean water through the Ludeke Dam," said Faku.
Ludeke Dam, the second biggest dam in the former Transkei region after Mthatha Dam, is part of the Greater Mbizana Regional Bulk Water Supply Scheme and has a storage capacity of 14.5 million cubic metres of water.
The project includes the construction of Nomlacu Water Treatment Works at a cost of R70 million, where water flows from a pump station at the Ludeke Dam through a 13km of steel pipe to the water treatment works.
The water treatment works is designed to eventually supply 20 mega litres of water per day but currently has a capacity of 10 mega litres (10 million litres) water per day. The plant will ensure that the community gets clean and healthy water.
Another element of the project is a bulk pipe line and the building of reservoirs at a cost of R110 million.
The bulk pipe line will supply water from Nomlacu Water Treatment Works to strategically situated bulk reservoirs areas across Mbizana, which in turn will distribute treated water to the Greater Mbizana area.
Job opportunities
The project has also created job opportunities for local communities.
The Ludeke Dam has created 190 jobs, the pump station has employed about 70 people, Nomlacu Water Treatment Works 70 people and 150 were employed to work on the pipelines. Also, 32 people have been trained as plumbers and five as treatment works operators.
About R6.5 million was spent locally to pro- The newly constructed Ludeke Dam in the Eastern Cape is part of the Greater Mbizana Regional Bulk Water Supply Scheme, which will supply clean drinking water to about 270 000 people.
cure diesel, accommodation, security services, portable toilets and local contractors. "The project has assisted me a great deal. I am now the bread winner at home. I was not employed before," said Ntombifuthi Cagi, of ward 27, in Mbizana.
She started working at the project in March 2012 as a cleaner.
Once completed, the project is expected to supply safe drinking water to about 270 000 people.
* Ndyebo Kopo works for Government Communication and Information System in the Eastern Cape