Labour issues
Strikes that continue for a long time have a negative impact on the economy and do not benefit anyone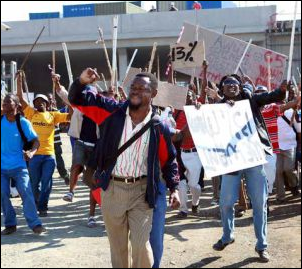 This is according to the Department of Labour, which added that wages lost because of strikes went up from R6.6 billion in 2012 to R6.7 billion in 2013. "There are no winners in prolonged strikes. They hurt both employers and employees the same - employers lose income while trade unions or employees lose wages, which is hard to recover after a prolonged industrial action.
"Strikes also have a negative impact on government's efforts to create jobs," the Department of Labour said.
In the past few years, the country has been gripped by a wave of strikes resulting in the destruction of property, loss of income and lives.
In an effort to prevent strikes and deal with the violence accompanying them, the department will discuss the introduction of a system of compulsory negotiations with its social partners at the National Economic Development and Labour Council (NEDLAC).
The department is also worried about the behaviour of some parties during strikes.
"We have seen parties acting outside the legal framework provided for by legislation, which is an area of concern. However, we are aware that there are measures in place to deal with this phenomenon."
The department is also planning a Labour Relations Indaba where various issues relating to strikes will be discussed by government, business and labour.
"The intention of the indaba is to address the issues of violent strikes, the duration of industrial action, minimum wages as well as consider introducing interest arbitration as a way of limiting or dealing with long duration of industrial actions," the Department of Labour said.
Difference in income, race and gender are some of the major causes of strikes.
"Inequality in earnings is compounded by a lack of income security, particularly for workers when they reach retirement and for those outside of secure, permanent or regular temporary employment.
"The lack of income security places pressure on workers to maximise earnings when they are in paid employment … and makes compromise difficult," it added.
With the discussions at NEDLAC and a labour indaba planned, the department is confident that such interventions will produce results.