Local government
The people of Bekkersdal in Gauteng is making amends for their vandalism during service delivery protests, which saw them damaging community facilities.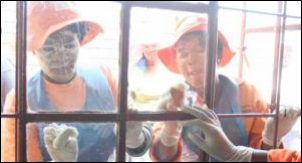 Early this year, the informal settlement was in flames as angry residents burnt tyres and destroyed state property.
Residents have now taken it upon themselves to renovate the clinic that was burned during the protests.
The man behind efforts to clean up and renovate the clinic is Bekkersdal resident Sello Rampeku.
One morning while listening to a radio programme, he heard the presenter talk about how young people had destroyed property during the service delivery protests.
"What he was saying really concerned me because most of our of elderly people rely on the clinic for their medication. Some of them take chronic medication," he says.
Rampeku didn't waste time. He set up a meeting with the clinic head, Violet Pooe, to present the idea of the community uniting to clean up and repair the clinic.
"I met with the clinic head to assess the damage and found out that one of the things that was stolen was the electricity cables. I spoke to Eskom to help with the cables and restore power and the Department of Health helped us with medication."
Rampeku then asked for help from local organisations and the support he received was overwhelming.
"I was surprised because more than 100 people turned up for the cleaning campaign," he says.
Members of organisations such as the Kamohelong Home Based Care, Zivuseni Project and Greater Westonaria Association of Youth Clubs (GWAYC) also assisted with the project. Keitumetse Sedumedi, of GWAYC, said the club got involved because they were dedicated to serving the community.
"By helping we are making sure that the community receives their daily basic services from the government," she said.
Thabang Super Market donated cleaning equipment for the project and Colonel Baba Mputwane of the Bekkersdal Police Station sponsored the window panes.
The Gauteng MEC for Cooperative Governance, Traditional Affairs and Human Settlements, Ntombi Mekgwe, applauded the community for fixing the clinic.
"People should not see government as a cash cow but (as a) part of them. Also, it cannot be right for people to wait for government when they can provide a solution to their problem.
"The residents who participated in the fixing of the clinic have shown true leadership, patriotism and Ubuntu," MEC Mekgwe said.