The first of the 64 antennas of the MeerKAT telescope, the largest and most sensitive radio telescope in the southern hemisphere, and a precursor to the Square Kilometre Array (SKA), has been completed outside Carnarvon, in the Karoo.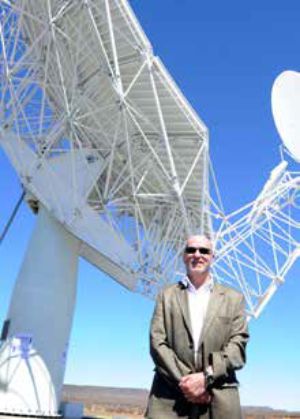 Standing 19.5m tall and weighing 42 tons, the new MeerKAT antenna towers above the antennas of the nearby KAT-7 instrument. KAT-7 was completed in 2010 as an engineering prototype for the MeerKAT and is now routinely used for scientific research.
MeerKAT is Afrikaans for the endearing little mongoose-like mammal that is indigenous to the Northern Cape and other Southern African regions.
The 63 others are still under construction with the foundation already laid. Almost 5 000 cubic metres of concrete and more than 570 tons of steel were used to build the foundations over the last nine months.
MeerKAT programme manager Glen Collins said that once all 64 antennas are operational, in 2017, the instrument ray will be so sensitive that it could pick up a cellphone signal from Saturn, making it better than all of the mobile networks in South Africa combined.
Speaking at the launch of the first MeerKAT Collins said that most of the structure is South African built.
The launch was witnessed by Ministers, Deputy Ministers and other representatives of the eight African SKA partner countries, the director-general of the UK-based international SKA Organisation and representatives of SKA member countries.
Science and Technology Minister Derek Hanekom said the launch of the first MeerKAT was a major milestone in the country's technology and will have a lasting legacy – especially skills development for the young scientists.
"Today signifies South Africa's commitment to MeerKAT and the broader SKA projects. It also showcases the excellent engineering and technical capabilities that the country has especially in delivering a project of this magnitude within the projected timeframes and budget."
MeerKAT will be incorporated into the SKA - the international enterprise to build the largest radio telescope in the world. Construction will start in 2016/17, with some elements operational by 2020, and full operation under way in 2025.
Africa and Australia were jointly awarded the SKA by the International SKA Organisation in May 2012.
The SKA, which will be a radio telescope, will make pictures from radio waves instead of seeing light waves.
Thousands of antennas, spread over 3 000km, will work together as one virtual instrument, creating a radio telescope 50 times more powerful and 10 000 times faster than any other currently in existence.
The antenna array and a dense aperture array will be constructed 80km from Carnarvon, in South Africa, and remote antenna stations will be constructed in Botswana, Ghana, Kenya, Madagascar, Mauritius, Mozambique, Namibia and Zambia.
The sparse aperture array (low frequency array) and the antenna survey telescope will be constructed in western Australia.