Four years ago, Livhuwani Tshifango took a big gamble when she swapped her business suits and heels for chickens.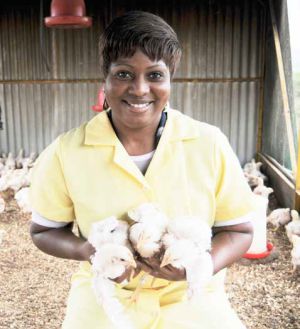 The former bank administrator left her job to start a chicken abattoir, a decision she does not regret.
"People always ask me why I left my job and sometimes it's difficult to answer that. I feel like this is my calling," says the 34-year-old.
She spent six years at ABSA as a branch administrator before joining Standard Bank, first as an administrator and later as a consultant at the enquiry desk.
According to Tshifango, it was her clients who contributed to her decision to resign. "Most of the people I helped at the bank had a farming background and they had a lot of money in their accounts.
"It was then that I decided to get into this kind of business and I'm happy. I don't have any regrets about leaving my job."
After resigning in 2010, Tshifango used her pension fund to start a small cooperative in Makhado, Limpopo, which she called Khariye Poultry Farming.
"I invested about R80 000 in the cooperative. My younger brother also became involved in the cooperative," she adds.
The cooperative has since created 27 jobs for locals. It raises, slaughters and packages chickens to sell to retailers, hawkers, local communities and restaurants in and around Makhado. The cooperative also sell live chickens.
Tshifango says her business journey has been filled with challenges. When the cooperative started, it did not have electricity, running water or a place to slaughter the chickens.
Instead of setting her back, these challenges made her more determined.
"Those challenges did not deter me from working hard because I knew that the road would not be easy. I wanted to succeed and every obstacle that came my way just motivated me to work harder."
Unpredictable weather also proved to be a huge challenge for Khariye Poultry Farming. In December of 2013, heavy rains and storms caused havoc in the region and killed more than 300 chickens.
"When I see chickens, I see money and when those chickens were killed, I went into a corner and cried because I had lost a lot of money," she recalls.
With the help of a grant from the Department of Agriculture, the cooperative was able to build two additional structures to house the chickens and as a result their cooperative has grown significantly.
The cooperative slaughters more than 1 000 chickens a month and demand increases during peak periods. "During times like Easter, the demand increases and that's when we slaughter even more," she explains.
Khariye Poultry Farming was the overall winner of the Eskom Business Investment competition, an initiative of the Eskom Development Foundation, and walked away with R200 000.
The cooperative was recognised and rewarded for its solid business model and financial management, as well as its contribution to addressing unemployment in the area.
The cooperative also named the best agricultural project in the Vhembe District Municipality in Limpopo.
Although Tshifango and her team are not supplying any of the major supermarkets, she says her supplier database is good and hopes to increase it.
"Currently, we are supplying the community, stokvels, small retailers and small restaurants in Makhado. I'm confident that as the business grows, we will get the bigger contracts and supply other big shops," she says.
With the prize money from the Eskom Business Investment competition the cooperative plans to expand their business to produce more chickens and meet the ever-increasing demand, with the long-term goal to distribute the chickens countrywide.