Written by Noluthando Mkhize and SAnews
Dipuo Moyeni, a mother of two, had her first child when she was just 15 years old.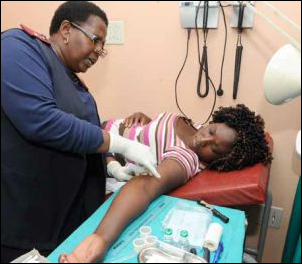 and while the 26-year-old loves her two children, she wishes that the new sub-dermal contraceptive device, which was recently launched by Health Minister Aaron Motsoaledi and is available to women free at government clinics, was available when she was younger.
"I was only 15 when I had my first child. I was a child myself and did not know anything about raising children. If the device was available back then maybe my situation would have been different," she said. Moyeni recently had the contraceptive device implanted in her arm during a visit to the Laudium Community Health Centre in Gauteng.
Even though she was a little scared of the procedure, Moyeni said she was glad she went through with it because the new device prevents pregnancy and has fewer side effects than the injection, the type of contraception she previously used.
At the launch, Minister Motsoaledi explained that the contraceptive device is expected to decrease the number of unwanted teenage pregnancies and reduce the number of maternal deaths in the country.
It is implanted below the skin of the arm and will be added to the current birth control methods used by women to prevent unwanted pregnancy.
The Minister said there were one million women falling pregnant in South Africa a year, eight per cent of whom were below the age of 18. He said these minors were giving birth to 80 000 unplanned babies annually.
"They contribute to 36 per cent of all maternal deaths, because they are too young to fall pregnant. They easily die … due to issues like hypertension."
However, the Minister pointed out that the new device was not only targeted at young girls, but married women, who are advised by their doctors not to fall pregnant again, following previous pregnancy-related complications.
Once inserted, the device is effective for three years. "You no longer have to go to the hospital every three months, you'll now go after three years. But if you want to have a baby before three years, you just come and ask us to remove it," said Minister Motsoaledi.
Monyeni plans to educate her family about the new contraceptive device. "I have younger sisters and both of them have children, I will also advise them to get the device."
She added that government had done a good thing by making the contraceptive device freely available but it should also be rolled out to high schools, given the high number of teenage pregnancies.
Sister Rebecca Mokoma, who is a nurse at the Laudium Community Health Centre, said the device was becoming popular with residents of Atteridgeville, Erasmia, Mooiplaas, Olievenhoutbosch and other areas. The clinic services 360 000 people from these areas.
"On an average day we get about 10 people between the ages of 30 and 35 coming for the device. Some say they heard about it from the media or through word of mouth." She added that before the device is implanted patients are screened for breast cancer and pregnancy.
"We give the device to girls from the age of 14 years upward. The patients who come back for follow up visits say they only have minimal side effects such as nausea and dizziness, which only lasts for two weeks after the implants."
The clinic has five nurses and one doctor trained to insert the contraceptive device. Countrywide, 2 000 nurses have been trained to administer the device, the Minister said.