Local government
The Department of Cooperative Governance and Traditional Affairs has established an internal nerve centre to come up with plans to detect and deal with violent service delivery protests.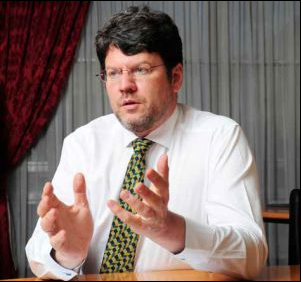 In recent months the country has seen a wave of violent service delivery protests, which has resulted in state property being destroyed.
The community of Bekkersdal in Westonaria is one among those who took to the streets, burning tyres and blocking roads, as they demanded better services.
Cooperative Governance and Traditional Affairs Deputy Minister Andries Nel said the violence that often accompanies protests is a concern for government.
"Let's look at the first two months of 2014. A breakdown of the protests demands during the first two months of 2014 shows that water, housing, electricity and sanitation were the major reasons for unhappiness.
"Fifty-four per cent of the protests were in the metropolitan areas. Of concern is that 92 per cent of the protests during 2014 so far were violent," said Deputy Minister Nel. He said dedicated staff had already been allocated to the nerve centre, which will have a rapid response and structural reform component as well as an intelligence unit.
Rapid response will be responsible for emergency short-term interventions and will help municipalities address communities' concerns through immediate political interventions.
Structural reform will help provide municipalities with administrative, managerial and engineering skills, among others. The intelligence unit will give analytic and communications support to the centre.
Service delivery protests
The Deputy Minister added that the department was working closely with the South African Police Service (SAPS) and municipalities to detect early warning signs of service delivery protests.
According to Deputy Minister Nel, local government is an important aspect of the state as it interacts closely with communities.
"This is probably one of, if not the most, important spheres of government because it is closest to the people and has the most direct impact on the quality of life of people in so far as it relates to the provision of basic services and the creation of an environment within which people live."
Services such as water, electricity, maintenance of local roads and municipal infrastructure are the responsibility of local government. Since 1994, national government has allocated substantial funds to build municipal capacity, he pointed out.
The Siyenza Manje Programme, which helps low capacity municipalities address service delivery challenges through hands-on support and skills transfer, spent about R933 million from 2006/07 to 2009/10. Almost R5.8 billion has been allocated for municipal capacity support from 2013/14 to 2016/17.
Although progress has been made in transforming the local government and delivering services to communities, challenge still exist. Some of these include the shortage of technical skills, poor recruitment practices and violent service delivery protests.
Communication
Deputy Minister Nel noted that in some cases, the lack of response to communities' concerns by local authorities often led to protests. "The failure of the authorities to respond positively to community demands often leads to protests. Corruption is mentioned by all the protests participants as a major concern in the operation of local government and recently, lack of employment is raised at protests."
According to the Deputy Minister, local government authorities need to improve the way they communicate with communities. "Poor communication between municipalities and communities has been identified by both analysts and government as one of the challenges surrounding protests.
"An increase in service delivery protests illustrates a need to strengthen the innovative platforms of participatory democracy and to foster closer and more regular engagement between citizens and their public representatives," he said.
He added that skills and capacity were also areas that needed local government's urgent attention.
"The building of capacity and skills and the appointment of suitably qualified and competent people has been identified as an important building block in ensuring an improvement in service delivery at local level."
New regulations
With regards to skills, the department has made progress in efforts to professionalise local government. The department has introduced "Regulations on the Appointment
and Conditions of Employment of Senior Managers".
The department says the regulations are aimed at strengthening governance and guiding municipalities in the appointment of senior managers to ensure that their skills are specific for the purpose.
The regulations will also provide for the creation of a database of managers who have been dismissed for misconduct or corrupt activities to prevent them from being rehired by other municipalities once they are fired. Through the new law, senior managers will also have to declare their financial interests regularly.
With qualified managers and improved communication between local authorities and communities, Deputy Minister Nel is confident that local government is on the right track to deliver services to communities