Written by *Prince Seokotsa
A new, R20 million programme is providing North West farmers with the post planting resources they need to ensure successful crops.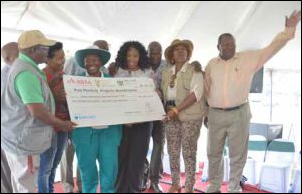 In an effort to sustain crop production in the province, the North West Department of Agriculture and Rural Development, in partnership with the national Department of Rural Development and Land Reform, officially launched the Post Planting Production Inputs Initiative in the Ngaka Modiri Molema District.
Just over 100 farmers, who planted 6 335 hectares of maize and 7 373 hectares of sunflower in the Ditsobotla, Ratlou, Tswaing and Mahikeng, will benefit from more than 36 000 litres of diesel, fertilisers, chemicals, top dressing, repairs and maintenance of machinery, payment of casual labourers and costs related to harvesting.
According to the MEC for Department of Agriculture and Rural Development, Desbo Mohono, this initiative will help bring land that been has unused for many years under full production, contributing to food production and food security initiatives in the province.
"It is through this initiative that the potential for these communal farmers to produce for commercial markets could be unleashed, as demonstrated by one dynamic woman beneficiary from Kaalpan, who has put more than 1 000 hectares under production," said MEC Mohono.
The beneficiaries of the project include individual farmers and seven cooperatives.
Most of the farmers have attended courses and have been trained in soil preparation, mechanisation, top dressing, chemicals and budgeting of finances.
The training has helped them overcome tough times and conditions.
They will also have the opportunity to continue the training through courses at the Kgora Training Institute.
Chief director at the Department of Rural Development and Land Reform, Lengane Bogatsu, said the partnership between the national and provincial departments would grow from strength to strength, to ensure that farmers were well taken care of. "We have many projects of this magnitude within our lucky packet. We will be taking no prisoners when it comes to improving the livelihood of our farmers within the province," said Lengane.
*Prince Seokotsa works for the North West Department of Agriculture and Rural Development