Government will help more than 200 young South Africans realise their dreams by giving them the opportunity to study further through the Solomon Mahlangu Scholarship Fund.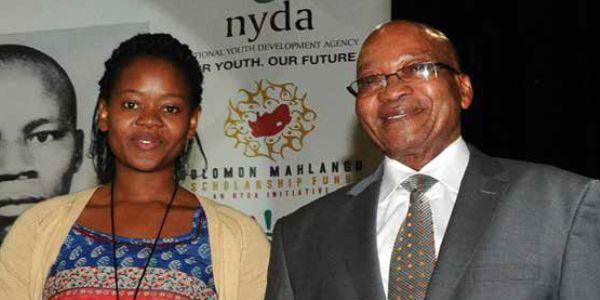 The R20 million fund was recently launched by President Jacob Zuma and shows government's commitment to investing in the education of the country's young people. "We want access to quality education to be one of the tangible fruits of freedom for our youth," said President Zuma.
The Department of Higher Education and Training and the National Youth Develop-ment Agency (NYDA) each contributed R10 million to the fund.
Learners from disadvantaged areas, who excelled at school and want to further their studies, will benefit from the fund.
It is named after the late struggle icon Solomon Kalushi Mahlangu, who was executed under apartheid laws at the age of 23, after he was wrongfully accused of murder and terrorism.
As the country celebrates 20 Years of Freedom, President Zuma said government was committed to ensuring that young South Africans live a better life than those who lived during the era of apartheid, when education was used as an instrument of defeat.
President Zuma said the fund was in line with government's national focus on education. "The democratic government views education as an instrument of freedom and development."
The NYDA also recognises the importance of educating South Africa's youth and is confident that the fund will grow and reach more young people.
"We envision growing this scholarship into a multi-billion fund, opening the doors of learning to our youth," said NYDA chairperson Yershen Pillay.
He also called on the private and public sector to get on board to make more young people's dreams a reality.
Second chance
President Zuma also highlighted another NYDA project - the National Senior Certificate Rewrite Programme - which is helping the country's youth better themselves.
The programme helps those who failed matric or did poorly, to rewrite the matric exams.
To date, the programme has given more than 8 000 young people a second chance. President Zuma pointed out that some of the graduates of the programme are now beneficiaries of the Solomon Mahlangu Scholarship Fund.
One of these is Ntsako Shiringani, 24, from Mpumalanga, who said the fund and the programme had given her the opportunity to start over.
After matriculating in 2007, Shiringani President Jacob Zuma with Ntsako Shiringani, one the recipients of the Solomon Mahlangu Scholarship Fund. The President recently launched the R20 million fund that helps students from disadvantaged areas further their studies. studied information technology (IT). However, after three years, she decided to go back to matric and better her results.
"I did not pass well in 2007, which is why I ended up going to college to pursue something that I had no interest in. I realised I wasn't happy and IT was not what I wanted to do as a career so I made the biggest decision of my life. I went back to high school."
Shiringani once again put on her school uniform and braved sitting in a classroom with learners much younger than her. At first she chose not to do mathematics but after realising that it was a requirement at all the universities she had applied to, she took on the subject.
Shiringani passed all her subjects, achieving five distinctions and 62 per cent for mathematics.
"I'm now older and more focused. I decided to fix my own mess and it is slowly paying off."
She is now a first-year commerce student at the University of Johannesburg and is the first in her family to attend university. For Isaac Mashego of Sebokeng, the possibility of going to university was always just a dream.
"My mother is unemployed and my father works as a driver for a mining company," said the 19-year-old, who has eight siblings. "I knew there was no way my parents could afford the fees, so the only way I was going to study was if I got a bursary or scholarship."
Mashego worked hard in matric and applied for as many bursaries as possible. Even though his results were good, he knew that he did not have a backup plan if he didn't get a bursary.
Thanks to the Solomon Mahlangu Scholarship Fund, Mashego didn't need a back up plan and is currently a first year electrical and electronic engineering student at the University of Johannesburg.
"I am so happy that I finally have the power to change not only my future but my family's as well," he said.
The fund covers all the costs of the beneficiaries' studies including tuition, books, meals and accommodation. It is awarded to students studying information and communication technology, law, tourism, geology, logistics, pharmacy, journalism, agriculture, engineering, development studies and supply chain management.