The Department of Social Development has launched a pilot command centre for victims of gender-based violence.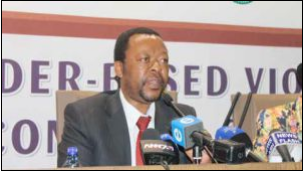 In South Africa a woman is raped every 26 seconds and more than 71 per cent of women have been sexually abused, according to statistics released by the Department. It is hoped that the command centre would help deal with this growing crisis.
"For too long, violence against women and children has remained a hidden scandal in our homes and communities. Gender-based violence affects all families in South Africa - rich or poor, big or small," said director-general of Social Development Coceko Phakade.
The new 24-hour call centre was launched as part of the country's celebration of 20 years of championing the struggle for gender equality. "Over the past 20 years we have made impressive progress in freeing women from customs and practices that undermine women's rights," said Phakade.
More girls are now in school and tertiary institutions and more women have been employed. Yet despite these achievements, Phakade said that gender-based violence remains one of the major challenges facing South Africa today. The Medical Research Council and Gender Links Study of 2011, showed that over half of the women in Gauteng have experienced some form of violence in their lifetime. The study also noted that 78 per cent of men in the province admitted to being perpetrators of violence against women. According to the department, violence against women can be physical, sexual, economic and psychological, all of which violate a woman's dignity and human rights.
The only way to end the vicious cycle is to empower victims of gender-based violence, which is what the new call centre aims to do. It will provide support and counselling to victims, who will receive immediate psycho- logical assistance and referrals to help them avoid further exposure to violence.
The pilot phase command centre will, for the next six months, operate in Hillbrow, Moroka, Sunnyside, Akasia and Alexandra in Gauteng, as well as Edendale and Inanda in KwaZulu-Natal. However, victims from across the country can also make use of the call centre to get help.
To date, 75 qualified social workers have been employed and trained in trauma management and customer service. Sixty-five of these social workers were previously unemployed. The command centre will also help in prosecuting those responsible for these crimes. The information collected throughout the intervention process can be made available to the courts as evidence.
The department has joined forces with the South African Police Service, Departments of Justice and Constitutional Development, Health and non-government organisations to ensure victims receive medical or legal assistance.
The Vodacom Foundation has also given its support to efforts to stop gender-based violence by investing R4.2 million to help cover the cost of the information communication technology infrastructure for the call centre over the next six months.
"We wanted to get involved in the initiative to ensure victims of gender-based violence have access to qualified help. Gender-based violence is not acceptable in a country where people have equal rights," said Vodacom's chief of corporate affairs Maya Makanjee.
The call centre also forms part of government's interventions to address gender-based violence, which include the establishment of shelters for victims of domestic violence and the Khuseleka One Stop Centres for Victims of Crime and Violence. These centres also provide services such as counselling, medical treatment, legal and police services under one roof in order to minimise victimisation
Victims can call the toll free number on 0800 428 428 (0800 GBV GBV) and will be able to speak to a social worker for assistance and counselling. Callers can also request a social worker from the command centre to contact them by dialling *120*7867# (free) from a cellphone.