Written by Nthambeleni Gabara
South Africa's under-19 cricket team has earned the praise of Sports Minister Fikile Mbalula and pocketed R200 000 for winning the ICC Junior World Cup in Dubai recently.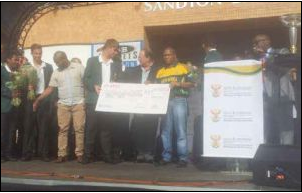 The Baby Proteas defeated Pakistan by six wickets in the final of the world cup.
It was South Africa's first victory in this tournament and the third time they reached the final, having been there under Hashim Amla's captaincy in 2002 and Wayne Parnell's in 2008.
"This is what we are about as a nation - winning and winning for our people. We can't ask for more when we talk about the foundation of building a success story for this great nation of the late former President Nelson Mandela," said Minister Mbalula at an event celebrating the team's success. The Baby Proteas paraded their trophy in Johannesburg on an open bus.
The Minister thanked the parents of the young cricketers for allowing them to share the moment of glory with their fellow South Africans.
"This is their story. They have a great future ahead of them. Cricket SA and government will look after them. We will never forget what they did for South Africa," he said.
Asked how they managed to beat their opponents, the team's captain, Aiden Markram, said: "I think it was just a balance of self-belief and discipline, with each player sticking to our game plan. At the end of the day, we were fortunate enough to be on the winning side.
"We had very good preparations ahead of the tournament but after our first victory, the mood was very good at the camp. It gave us the winning momentum and fortunately, Nthambeleni Gabara this also worked out very well for our team."
Markram said the team was humbled by the support from the nation. "We never expected this overwhelming support at all and this makes us happy. We appreciate it, as this is one of our great moments in our lives."
Markram said the bar had now been raised for the team to do even better. "We do feel the pressure … but as players, we will deal with it by ensuring that we divert such pressure by defeating our opponents."