If a child cannot learn the
way we teach, maybe we should teach the way they learn. "This is the motto of the Agulhas School of Skills in Napier in the Overberg region of the Western Cape.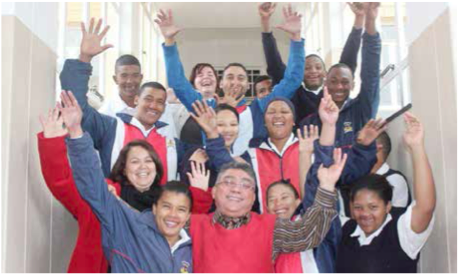 The school, created to accommodate learners with learning difficulties, is one of 18 Schools of Skills opened in the province by the Western Cape Department of Education.
School principal, Andries Botha, says the school strives to meet the needs of its learners. "Learners are all different, they have their own unique talents and skills and their own way of learning. Many learners have specialised educational needs that cannot be addressed in mainstream schools. This is why schools of skills, like the Agulhas School, were created – to address the unique and diverse needs of learners."
The school currently accommodates 259 learners, including 84 learners who live in the school hostel. Learners are from the neighbouring towns of Kleinmond, Arniston, Grabouw, Caledon, Hawston, Stanford, Gansbaai, Swellendam, Bredasdorp, Struisbaai, Napier, Botrivier, Riviersonderend.
The remaining learners are transported to the school daily. The school currently follows an adapted National Curriculum Statement (NCS) which pairs academic subjects such Afrikaans, Mathematics, English First additional Language, Natural Sciences, Technology and Life Skills, with practical subjects such as Woodwork, Welding, Mixed Farming, Building Construction, Hair Dressing, Hospitality Studies, Educare and Needlework. Learners also participate in job-shadowing where they are invited to visit various local businesses.
Botha says the school gives an opportunity to learners who would otherwise struggle to cope. "They may grasp things slower than others, this does not mean they are low performers, it just means we need to change the approach we use to teach them, these schools of skills do just that."
School psychologist Gaynor Benjamin says the school has made an impact in restoring the confidence of its learners.
"It is amazing to see how a different approach to teaching can build up a child's self-esteem. When learners first come to us, they are withdrawn, and feel like under performers because they could not cope in a mainstream school. Once they go through our specialized teaching, you see the changes in them. To see a child smile and feel worthwhile after achieving a great grade is priceless."
Learners who have difficulties in the classroom are identified by the provincial education district and are placed in these specialised schools of skills. Currently, over 7 000 learners have been placed across the 18 schools of skills in the Western Cape. A further five public schools offer schools of skills services through skills units, accommodating an additional 700 learners.
The Overberg Education District decided to convert the Napier High School into a School of Skills after identifying demand for such a facility in the area.
Did you know?
Education
Early Childhood Development (ECD) has grown and grade R enrolment rates have doubled from 300 000 to 705 000 in 2011.
The percentage of Matric passes has increased from under 60% in 1994 to 73% in 2012.
Over 23 million workbooks for Grade R to Grade 9 were distributed in 2011
Source: Development Indicators Report, 2013