After losing both his parents at an early age, the future looked bleak for Philisane Ncane with no one to look after him. The then 21-year- old soft spoken and humble young man left his hometown of Port Shepstone for the 'big city' of Durban to pursue his dreams.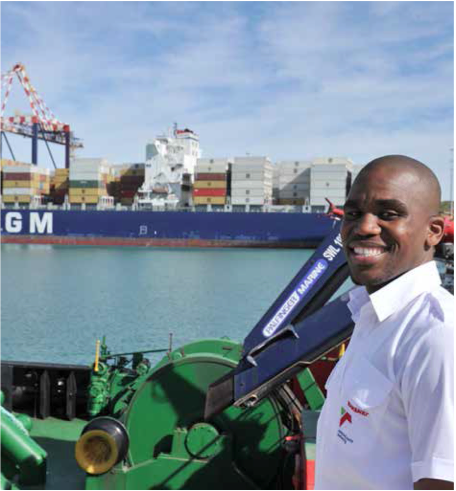 When he arrived in Durban, he didn't know anyone. He survived by foraging in dustbins and sleeping on the streets for two months. The time he spent on the streets of Durban was very difficult and prepared him for bigger things to come.
Ncane's life took a turn for the better when he was offered a bursary by Transnet National Port Authority (TNPA) to enroll for maritime studies. He is now a tug master at the newly built Port on Ngqura in Port Elizabeth and has a team of seven people that reports to him.
Ten years after leaving home, Ncane is responsible for berthing vessels as big as 380 metres carrying over 100 containers, a job that needs meticulous planning, he says. "You can't afford to make a mistake especially when it comes to time and proper planning."
Ncane is one of the beneficiaries of the TNPA training programme that was established in 2009 to meet the demands of a new port and to transfer skills to young people coming from disadvantaged backgrounds. Like many other young people drawn from poor and rural backgrounds, Ncane says his journey to his position was filled with trials and tribulations.
He completed his matric in 2002 and did his electrical engineering certificate at Umlazi College but could not complete the cause because he didn't have the money to pay for his studies. In 2004, he applied for a bursary at Transnet and was called for an interview the following year where he was chosen to be part of the training programme.
Transnet Corporate Affairs Manager Sindie Ndwalaza says the training programme has helped and increased the skills and human resource at the newly built port. When it started in 2009, the port had only one shift creating doubt about its viability.
Since it was launched, the TNPA training programme has trained 283 young people in different skills in line with the operation of the port.
"We have trained technicians, engineers, crane operators, maintenance crew and fitters in partnership with different companies, such as Liebherr. They provided training for crane operators.
"When we started there was talk that this port would become a white elephant, but look at us now, we are a fully operational port with more than one shifts".
With a smile, she says she recalls the first cargo container by renowned Italian shipping giant Mediterranean Shipping Company (MSC). "MSC was one of the companies that showed a lot of faith in us and we are proud of what we have done so far".
Ncane urged young people to work hard and never give up on pursuing their dreams. "Hard work and dedication will make you realize your dreams."