Written by Noluthando Mkhize
In the busy industrial area of Phuthaditjhaba in Qwa Qwa in the Free State, five women have started a factory to manufacture shoes.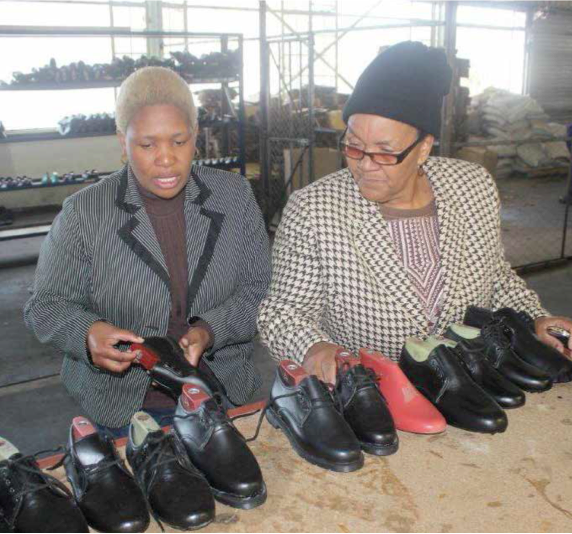 Nomvula Finger, Connie Ramooana, Nthako Moleboheng, Kitsi Rutha and Nokufa Xaba have established the Halala Basadi Cooperative to manufacture school shoes, morning slippers, sandals and now plan to make bags.
Their dream came true when they were given a grant of R3, 5 million by the Free State Department of Social Development to start their business.
Finger says in 2012 they decided to form a cooperative after receiving training on how to manufacture shoes from a local man.
"We registered the cooperative in April last year and officially started working in October after receiving funding. We received a grant of R3, 5 million which we used to buy machines, material to manufacture the shoes and the overall costs of starting a business."
When you enter the small factory, you are greeted by the smell of glue and the sound of the machine drilling on pieces of leather.
The cooperative currently has 13 workers and three volunteers working at the factory. They explain that the idea of starting the cooperative was born when the Free State MEC of Social Development Sisi Ntombela visited Phuthaditjhaba and encouraged female entrepreneurship.
"When we did our paperwork to apply for the grant from the Department of Social Development and seeking proper premises to work from the Free State Development Cooperation, we did not think that the process would be so quick," adds Ramooana.
Finger explains that they sell their merchandise to municipalities, marketing themselves for contracts to make school shoes.
"We also sell directly to the public and to schools. Currently we have contracts with six municipalities in the Free State."
Ramooana says that a typical day at the co- operative starts at 8am when they begin their daily duties with a prayer and ends at 4pm in the afternoon.
"Each day we have a schedule of duties and how we separate the duties. We make roughly 500 pairs of shoes daily. We would also like to make bags as time goes on. We are very hands on in what we do. Each person is allocated du- ties in order for the business to run smoothly." The ladies agree that business is doing well especially since the cooperative was born barely a year ago but mentorship would be greatly appreciated.
Free State Social Development Department's head of communication and marketing Galaletsang Moncho said the R3,5 million grant given to Halala Basadi was broken down and given to them in phases. The department initially gave Halala Basadi R2 million to purchase shoe production machines which was the first phase of the funding. "They were again allocated R800 000.00 to procure shoe making material as well as to pay stipends to members of the factory. They are to be funded R700.000 as the last phase of the funding of the R3,5 million.
Moncho says these women were funded after they were identified during a household profiling exercise conducted in the Maluti a Phofung Local Municipality and were found to be unemployed, unskilled and with no means of survival.
"The starting of this factory created employment opportunities for women in that municipality. These women knew nothing about shoe production but this project has given them a life term skill."
She says people wanting to be assisted by the department should go to the nearest offices of the department in their communities. Each district in the province has a district office as well as a few local offices.
The ladies of Halala Basadi Cooperative are in the processes of getting their shoes approved by the South African Bureau of Standards.
"We would also like to have other small factories around the country as a way of expansion."
The ladies say their message for other women is to stick together and work hard.
"We are very happy to have received the assistance from taxpayers and the government but it is equally important that women work hard and not fold their arms waiting for handouts," says Ramooana.
The funding of initiatives like Halala Basadi Cooperative is made possible by the tax revenue collected by the South African Revenue Services.