International relations
As South Africa prepares to celebrate 20 years of freedom next year, it was only fi that the country hosted Vietnam recently.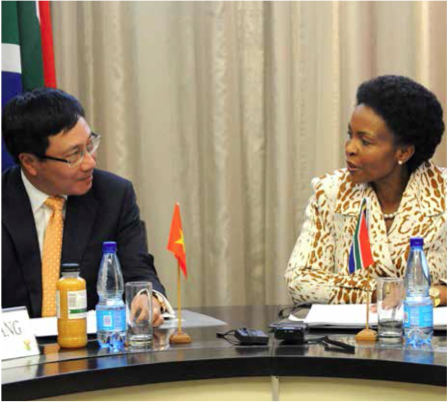 The two nations share a 20 year bond and friendship that has seen them develop deep social, economic and cultural ties.
With the recent visit by the Vietnamese Foreign Affairs Minister, Pham Binh Minh, to our shores; the long standing relationship between the two countries was taken to another level.
South Africa attaches considerable importance to its relationship with Vietnam as a staunch friend and ally.
According to South African trade figures, bilateral trade amounted to R6 billion in 2012 (up from R3,7 billion in 2011), making Vietnam South Africa's 5th largest trading partner in South east Asia. South Africa's trade deficit of R4,5 billion in 2012, remains substantial, more than double that of the previous year.
"We welcomed the continuing increase in the volume of bilateral trade – which reached R6 billion in 2012, up from R3,7 billion in 2011 – and we agreed that there is still substantial potential in the field of trade and investment remains unexploited.
"We noted South Africa's considerable trade deficit and agreed that we should focus on increasing our economic interaction in a more balanced way," explained Minister Maite Nkoana-Mashabane.
Relations between the two nations go back many years before the formal establishment of diplomatic relations in December 1993.
The Vietnam Democratic Republic and South Vietnam (later reunified with the Democratic Republic of Vietnam) were two of the 34 countries that attended the Asia-Africa Conference, also known as the Bandung Conference in 1955 in Indonesia where the South African liberation movement was represented by Moses Kotane and Maulvi Cachalia.
The Bandung Conference issued a call for world-wide disarmament and also laid down a 10-point "good neighbour" policy for peaceful co-existence among nations.
It was in Bandung that the seeds of solidarity and cooperation between the South African liberation movement and Vietnam were sown.
"Over the past 20 years, the relationship between South Africa and Vietnam has grown and solidified into a multi-faceted relationship with growing cooperation in many fields, rapid growth in people-to-people links and strong state-to-state and government-to-government relations, which includes cooperation at many levels - bilateral, as well as multilateral," said International Relations and Cooperation Minister Nkoana-Mashabane.
Minister Minh said despite the fact that Vietnam and South Africa are geographically far apart, the two nations have been close through the destiny that they share - a long history of struggle for national identity and independence for freedom and human dignity.
"... not only in the past, but also in our cause for national construction and development today," he said.
Since the establishment of full diplomatic relations, South Africa and Vietnam have signed a number of agreements and memoranda of understanding (MOUs) and established various structures for conducting their bilateral relations.
"South Africa is today a free and democratic country and Vietnam has become one of the fastest growing economies in the world, having halved poverty over the past 20 years," said Minister Nkoana- Mashabane.
"Our governments face similar challenges to address inequality and alleviate poverty, and we have much to learn from each other's experiences."
Cooperation between South Africa and Vietnam is not limited to cooperation at central government level.
There are a number of initiatives taking place at provincial and local levels. The City of Johannesburg signed a MoU on cooperation and friendship with Ho Chi Minh City in 2009 and a twinning arrangement exists between Tshwane and Hanoi. Recently, the two signed an action plan that promotes cooperation between the two countries in law enforcement and compliance with legislation such as the Convention of International Trade in Endangered Species of Wild Fauna and Flora (CITES).
"In December 2012, we signed a MoU on Cooperation in Biodiversity Conservation and Protection and in May 2013 we signed an Action Plan that outlines joint actions up to 2017 and provides for continual re- view," said Minister Nkoana-Mashabane. The two countries look set to deepen relations and look forward to another 20 years of healthy relations.
The agreement is designed to promote cooperation between South Africa, China and Vietnam on conservation; they are particularly aimed at curbing the current scourge of rhino poaching through cooperation in law enforcement.