July Melao has moved from being a convicted criminal to being an entrepreneurial crusader for the environment.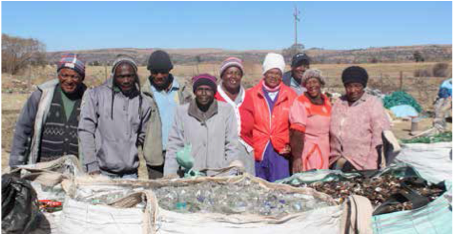 Ladybrand is a semi-rural area about 134 kilometres from Bloemfontein in the Free State, without much socio economic opportunities for its inhabitants.
Meisie Melao and her son July call their unregistered small business Phahamang Recycling. The business employs three other young people.
July explains that they were in the process of registering the business with the Companies and Intellectual Property Commission (CIPRO).
July was arrested for robbery in 2008 at the age of 19. He says poverty and peer pressure drove him to rob. He was sentenced for two years but got out after a year for good behaviour.
"When I was released from the Kroonstad Correctional Centre, I decided to change my ways and start again. My mother had already started the recycling business in 2008 so I decided to help her run it."
He explains that their typical day starts at eight in the morning when they go to the local dumping site to collect glass bottles.
"The glass bottles have to be separated into different colours. We group the bottles into the greens, the browns and colourless. We crush the bottles with stones and place them in big bags."
Phahamang Recycling generates income from selling the crushed glass to a glass company Consol. They have to collect about 30 bags of glass weighing about 40kg each before calling Consol to come and collect the merchandise which make between R7000 to R8000 per 40kg.
There are also other community members who have followed in the footsteps of July and his mother to make a living.
The pair explained that the business is very challenging, especially since they wear no protective gear when they crush and handle broken glass.
In 2010, the pair received training from cellphone network company, MTN, who taught them how to sort out waste. The company also linked the cooperative with Consol who is their main buyer.
July says even though the business is doing well, their future plans include growing the business, having proper premises to work from, buying a vehicle to transport the goods to their main supplier and acquiring proper working machinery.
July, who is also a motivational speaker for other inmates and young people in the com- munity, says it is difficult to live in poverty but it is up to each individual to think of ways to survive.
"While I was in prison, I decided to learn skills like carpentry, horticulture and did level four of adult basic education. The skills I learnt helped me to survive because I also make wreaths for funerals as another business venture on the side. I know it's difficult to survive without proper education and a stable job but crime does not pay," concluded July.