Infrastructure
From 2017, the people of Mdantsane township in East London will have a top class healthcare facility.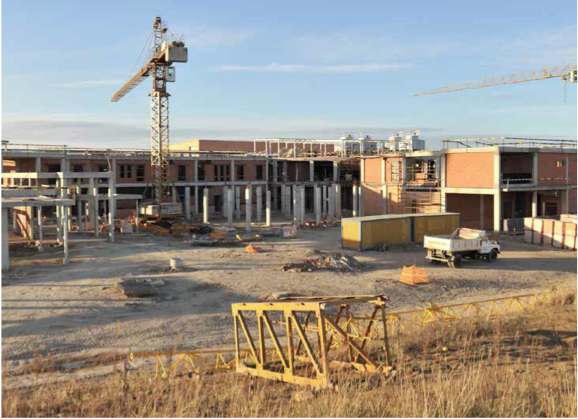 The sprawling township, which is the second largest township in South Africa after Soweto, will boast a state of the art hospital, combining different units in one building
Chief Executive Officer (CEO) of the hospital Dr. Mtandeki Xamlashe, says the new facility is being built to meet the growing demand for healthcare in line with the standards of healthcare stipulated in the new policies of the Department of Health. The new hospital is across the road from Cecilia Makiwane Hospital, which will be demolished once the new hospital is up and running.
"This will be more than just a hospital. It will be an institute," Xamlashe explains.
The hospital will be one of a few in the country to bring together various healthcare components in one complex. It will have a nursing college, accommodation for nurses and doctors,  emergency  medical  services, general surgery, a TB unit, maternity wards, accident and trauma unit, intensive care unit, orthopedic surgery, 630 beds (530 specialist beds and 100 mental health), a TB unit with 700 beds and other standard medical divisions. According to Xamlashe, with the health service delivery model shifting towards primary healthcare, more resources are being allocated to the prevention and early detection of diseases. "The new focus is on dealing with the diseases while they are still in early stages."
He adds that this focus will minimize the hospital's dependence on institutions of higher learning for training nurses as the nursing college will train and feed the hospital with staff. Construction of the hospital started in 2011. The hospital will service the communities of Mdantsane, East London, Queenstown and surrounding areas. Xamlashe adds the name of the hospital is likely to change to reflect its various units.
Job creation for the community
The new hospital will not only have a positive impact on the healthcare in and around the Mdantsane area, it will also have economic spinoffs and create jobs for the community.
The CEO is happy that the construction of the new hospital is bringing economic activity to this area. From the R2.1 billion allocated for the construction, a portion has been set aside for procuring goods and services from the local community of Mdantsane.
"Mdantsane is the first point of contact for all the services that we need. R300 million has been set aside for procurement of services from local business people. Local businesses gets preference, we will only go out for ser- vices from other businesses when we don't get what we need in Mdantsane," he explains. The hospital has started a partnership with the regional Department of Labour to train young people from Mdantsane in bricklaying, carpentry and welding. Various institutions of learning also send their graduates to do their training at the hospital.
Xamlashe expresses confidence that the new hospital will improve the health and economic well-being of the people of Mdantsane and surrounding areas.
Eastern Cape Department of Health call: 040 608 1000