When Phumolo Koalane was forced to drop out of the University of Johannesburg during his second year in 2011 because he didn't have money, the future looked bleak, and his dream of being a Mechanical Engineer was shattered.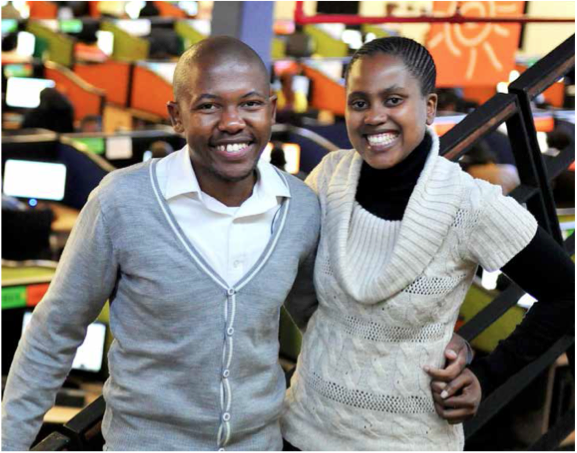 Like many other unemployed young people in Vosloorus, the 22-year-old would wake up in the morning, sit with his friends at a street corner or loiter around the township.
Koalane's lucky stars started shining on him when his cousin told him that African Bank would be advertising learnerships in a space of a week and he should send his application. He sent his application and he was called for an interview.
"One morning, it was round 09h00 I think, I was still asleep when I got a call from African Bank that I should come for an interview the following day. I almost broke my bed jumping with joy that I had been called for an interview," he says with a smile. "I came and wrote a psychometric test and I was called again for another interview which I passed."
Koalane was about to be trained as a call centre agent, benefitting from African Bank's participation in the Monyetla Work Readiness Programme. The programme is designed to accelerate training for entry level jobs in South Africa's growing Business Process Outsourcing (BPO) industry popularly known as the Call Centre Industry.
The programme responds to the need to develop local talent and is aimed at matriculants and diploma holders and unemployed young South African citizens between the ages of 18 and 35 years.
It is managed by the Department of Trade and Industry (DTI) and funded through the National Skills Fund. Learners on the programme go through a theoretical (classroom based) training, practical training and on the job experience.
The programme includes a competency assessment and nationally recognised certificates for participants. Participants also receive a monthly stipend which serves as a transport and meal allowance.
Koalane says the stipend goes a long way in assisting at home because he is the only one who is employed. "Being part of this programme has changed my life because now I'm able to take care of my mom and my sister. I didn't have anything to do and now my life and that of my family has changed" he added. Koalane's counterpart Yoliswa Mhlongo could also not complete her studies because of lack of funds. The 25-year-old from Matatiele in the Eastern Cape could not complete her Public Relations Management Degree at Durban University of Technology. She says with the stipend she gets from the programme, she intends to register to complete the remaining modules of her degree and she hopes to work for African Bank in the Public Relations department.
African Bank Learnership Coordinator Karmini Pillay says the programme is a good initiative as it combines two important aspects, a qualification and on the job training. "It's a good experience for them, the programme itself ties up the two most important aspect which is the qualification and work experience and those two are really needed in today's market."