Written by Noluthando Mkhize
When Kgopotso Molobela climbed the podium to receive his nursing diploma, he felt confident that he finally had a qualification that would guarantee him a fulfilling job.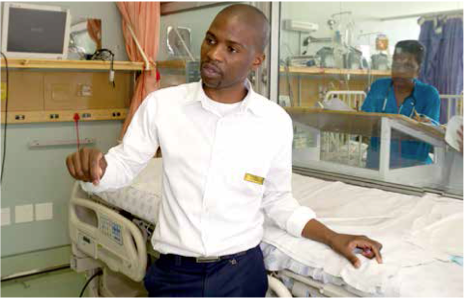 The 29 year old Molobela of Soweto had enrolled for a Diploma in General Nursing, Psychiatry, Community Nursing and Midwifery after being unemployed for four years. Armed with a Diploma in Accounting from the Tshwane University of Technology, he had scoured newspapers and the internet for jobs, without luck.
Molobela joined 700 other graduates from the University of Johannesburg, University of Witwatersrand and the Baragwanath Nursing College on the day, to become a Professional Nurse.
He had registered for the course in 2009 after a friend had informed him about a scholarship offered by the Department of Health for people interested in becoming nurses. He learned that while studying throughout the four-year course, he also got on-the-job training accompanied by a stipend.
He says even though he studied Accounting, his first passion was to care for other people. "The part I like most about my job is nursing a patient back to health. It's very fulfilling."
He also commended the way the course was structured because the tuition is free and students get on the job training in all sections of the hospital.
"As a nurse you are in charge of the patient and do everything for them and you are accountable for them."
Gauteng Health MEC Hope Papo said South Africa and the rest of the world has a shortage of health professionals, especially professional nurses. This has resulted in serious challenges for health care all over the world. The increasing burden of disease has compounded this challenge.
Papo said there was a shortage of over 4 million health workers globally, including 1 million in the African continent.
According to the South African Nurses Council's website in 2012 there were 248 736 nurses in the country.
Popo said his department made a conscious policy decision to increase nurse production by 20 per cent with effect from the beginning of January 2005.
The MEC added that the policy decision had to be supported by appropriate budget allocations. Investment in nursing education increased from R173 million in 2005, to over R700 million in 2013.
He said it cost about R140 000 to train one professional nurse per year.
"Since 2004 we have produced 12, 813 nurses in all categories such as Specialist nurses, Professional Nurses, Enrolled Nurses and Auxiliary Nurses. We have a total of 57 Professional Nurses currently registered for the one year diploma in Midwifery and they should be available to work in the midwifery units by October as they are on study leave from their employing institutions." He appealed to the graduates that they should not chase away any patients especially pregnant women.
"My message therefore is that as you enter the health care system and represent the aspirations of the President, the Minister of Health and the people of South Africa; your healing hands and your caring heart will contribute immensely to achieving the goals that have been set."
This message went down well with Molobela, who said he was ready to serve his patients with compassion and understanding.
"I want to be an agent of change in this profession. In my group at college we had a motto that said 'nothing but the best'. Our goal is to change the attitude and not to shout at patients and to show compassion and feel their pain."
Molobela praised the government for giving him an opportunity to realize his potential. "The Department of Health is giving us a very good opportunity. It's very expensive to do this course at University and pay for yourself. I am very grateful to the department because I can now work in any section of the hospital."
He says he feels at home stabilizing patients in the Intensive Care Unit.
Did you know?
Health
Since 1994, South Africa is making commendable progress to improve the health status of the nation.
In management of HIV and Aids epidemic, South Africa has the largest ARV programmes, with approximately 2 million people on treatment.
Infant mortality and under-5 mortality have decreased from 30 and 42 per 1 000 live births in 2011 respectively, exceeding the national targets of 36 and 50 per 1 000 live births by 2014.
National TB cure rate has improved gradually over the past years reaching 73% in 2011.
Life expectancy, Rapid Mortality Surveillance System shows that South Africa's live expectancy has increased to 60 years, exceeding SA 2014 target.
Source: Development Indicators Report, 2013