Written by Samona Murugan
Years ago, Wadea Jappie bought a piece of land in Schaapkraal, Philippi, where her kids could play and she could also start a small vegetable garden to sustain her family. Today she is one of the biggest emerging crop and egg farmers supplying over a 1000 eggs and vegetables daily to a number of well-known restaurants in the Western Cape.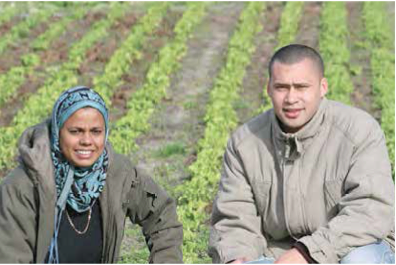 However, farming was never a dream of the former housewife. Her husband, Achmat bought a 1,6hectare small holding farm in 2002, and she started a vegetable garden to enable her to put food on the table for her husband and six children.
"I started cleaning the fi s just to sustain myself in the kitchen. But the vegetable garden soon became bigger."
Jappie then learned how to farm, but still insists that she and her son, Nabeel Brinkhuys, who is the foreman of the family's homestead, are first-generation farmers.
A year later, she bought 100 laying hens. They cost R40 to R45 each, so Jappie decided to start small. Soon word got around and she started supplying eggs to home and industries nearby. Having saved enough, she decided to expand and bought 400 more chickens.
Despite her success today, she still supplies her first customers who have paved the way for her success.
Over the next few years, the family managed to purchase more chickens and expanded their production to 4 000 laying hens. Success finally paid off in 2006 when Jappie was named Top Female Producer for Informal Markets in the Western Cape.
But in 2008, Jappie suffered a setback when a heat-wave killed over 1 500 of her chickens, and a few months later, a winter storm blew off the roof of their chicken coop. Coming to Jappie's rescue was the Western Cape Department of Agriculture, who stepped in and supplied the family with 1 280 new chickens.
Today, Jappie's chickens produce an average of 3 000 eggs daily, which is delivered to top restaurants, including Balducci's in Cape Town's famous Waterfront district, Mugg & Bean at Van- gate Mall, Nino's at Canal Walk, Spur in Ottery and several coffee shops. Jappie says, "We just phoned the restaurants and asked whether we could supply them with eggs and they agreed." Not wanting to put all her eggs in one basket, she also expanded her vegetable garden.
She received guidance from the provincial government once again, who taught her about seasonal crop production, and soil analysis. The department even assisted Jappie to test her crop soil and sent her and her son on workshops to learn more about vegetable production, fertilisers, pesticides and financial management.
During the warmer months, Jappie's cooperative Chamomile Farming, plants coriander, chillies, lettuce and peppers, and when it's colder, they rotate the soil for production of spinach, cabbage and turnips.
One of the biggest customers of the salad crops, is commercial farmer, Ian Grimmbach, who owns Cape Salads, also known as Dew Fresh. He packages the crops and supplies to Woolworths.
Jappie admits that farming is hard work, but also encourages developing farmers not to give up. Her family is her support system with everyone lending a helping hand. Even little kids take turns to weigh, sort and package the eggs after school.
Jappie and Brinkhuys have also employed four permanent workers and two casual workers. Jappie's advice to prospective egg producers is that you must never allow anyone from another poultry farm to visit your farm. This is called bio-security and prevents chicken diseases from spreading; limit stress inside the chicken house by restricting the movement of people and keeping to the same daily routine; ensure enough ventilation in the chicken house; always have fresh water available for the chickens; feed the chickens once per day; supply a lot of daylight; and ask your customers to return the egg trays to you so that you can reuse them.
Today she is working hard to expand her production to 10 000 laying hens, and has big plans her once small farm.
Western Cape Department of Agriculture call: 021 808 5111