Tourism and Heritage Month
September is a month to reflect on and celebrate South Africa's heritage resources.
It is Heritage Month, a time to go out and enjoy music events, dress up in traditional outfits, attend theatrical performances and appreciate South Africa's rich cultural and natural heritage.
This year, the Department of Arts and Culture has come up with the theme: "Reclaiming, restoring and celebrating our heritage" to encourage South Africans to protect and celebrate their heritage. Some of this heritage has been preserved at some of South Africa's heritage sites.
The country is home to eight of the 981 World Heritage Sites which are recognized by the United Nations Educational and Scientific Organisation as places of outstanding cultural and historical importance
These sites are Mapungubwe Cultural Landscape in Limpopo, Robben Island in the Western Cape, Cradle of Humankind in Gauteng, the Cape Floral Region in both the Western and Eastern Cape, Vredefort Dome in the Free State, uKhahlamba Drakensberg Park and Isimangaliso Wetland Park in KwaZulu-Natal plus Richtersveld Cultural and Botanical Landscape in the Northern Cape.
The sites offer a diversity and abundance of cultural and natural values that encapsulate the value systems of the country.
Mapungubwe cultural landscape
"The place of wisdom" as Mapungubwe is known is situated in the Limpopo province. The site lies on the open savannah of the Mapungubwe National Park, at the convergence of the Limpopo and Shashe Rivers. It touches the northern border of South Africa, Zimbabwe and Botswana.
This is a site that was populated by a civilized kingdom over 900 years back. Settlements, artefacts and graves of these communities can be seen at the site. It also has a national park where various bird and animal species, including four of the Big 5, roam freely.
For more information contact Mapungubwe: (015) 534 7923/24
Vredefort Dome
Vredefort Dome was declared a heritage site in 2005. Some two billion years ago a meteorite 10 kilometres in diameter hit the earth about 100km southwest of Johannesburg, creating an enormous impact crater. This area, near the town of Vredefort in the Free State, is known as the Vredefort Dome.
For more information, contact Vredefort Dome: 018 299 5371
Cradle of Humankind
Known in South Africa as the Cradle of Humankind, the region of Sterkfontein, Swartkrans, Kromdraai and environs has one of the world's richest concentrations of hominid fossils, evidence of human evolution over the last 3.5-mil- lion years. It was declared a heritage site in 1999 and 2005. Found in the provinces of Gauteng and North West, the fossil sites cover an area of 47 000 hectares.
For more information contact Cradle of Humankind: 014 577 9000
In addition to these sites, the country has 17 national heritage sites and the country is taking steps to protect more of its heritage sites.
Lieliesleaf Farm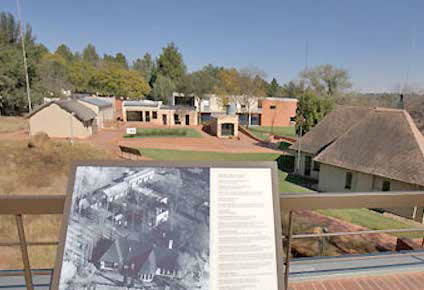 Government has set in motion the process of declaring another historic place in the history of South Africa, Liliesleaf Farm in Rivonia, a heritage site.
Speaking at the 50th commemoration of the Liliesleaf Farm raid by the apartheid police President Jacob Zuma said preserving the site would contribute to the on-going process of national healing and the building of a more cohesive society.
During the commemoration, President Zuma said it's our joint responsibility to tell the story of the farm. "We all have a responsibility to en- sure that the story of Liliesleaf and the Rivonia Trial is told in full for the benefit of current and future generations and that to ensure that the ideas born on this farm live forever".
Heritage Month 2013
According to the Department of Arts and Culture, this year's celebration of Heritage Month will be linked to six major objectives.
To foster social cohesion, nation building, economic development, inclusive citizenship and an end to xenophobia and homophobia.
To promote unity in diversity among all sectors of the South African society.
To create awareness through educational programmes, dialogues and public engagements on the importance of unity in our diversity.
To raise awareness and illustrate the meaningful importance of Liberation Heritage to the youths and "born free" generations.
To promote active participation through messages of support from political parties represented in Parliament.
To reaffirm and promote the significance of Liberation Heritage as part of the Cultural Heritage of South Africa.
So join in and help preserve and spread awareness of our heritage resources. They are not just symbols of our past, but they are the foundation for our future as well.
Did you know?
Tourism
Domestic Tourism accounts for about 4.5 per cent of total employment in South Africa, with almost 600 000 persons employed within the Tourism industry.
The department's skills development programme, the Tourism Enterprise Programme (TEP), created further 75 786 jobs with a turnover of R6.4 billion for the country.
Domestic Tourists contributed to more than R100 million to the Gross Domestic Product (GDP) with 25.4 domestic million trips taken in 2012, valued at R21.8 billion, an increase of R1.6billion from 2011.
In 1993 the country received just over 3.4 million international arrivals. Over the years international travel increased with 8.3 million arrivals in 2011, and almost 9.1 million international tourists visiting the country in 2012.
South Africa's tourist growth rate has grown by 15.1 per cent- and this was recorded as one of the highest growth rates in the world last year.
Source: SA Tourism