Written by Albert Pule and Phatheka Ntanta
Residents of Chatty in the Eastern Cape were treated to the spectacle of Deputy President Kgalema Motlanthe and ministers dressed in green overalls, black work boots, white helmets and hand gloves, working alongside contractors. They pushed wheelbarrows, mixed cement and lay bricks to provide decent housing for the homeless.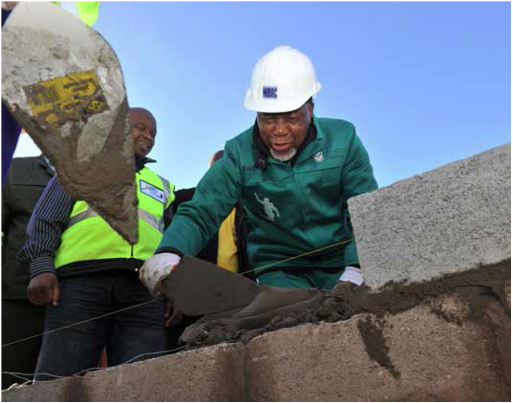 The team was on War on Poverty Campaign in and around the Nelson Mandela Bay Municipality. They built a house, renovated another one, held meetings with young people and the community and handed over a house and furniture to an elderly man.
The fi t stop of the delegation was a construction site where they joined construction workers in building a house at stand No 12727 of Chatty.
The construction project is a partnership between the Eastern Cape Department of Human Settlements, the municipality and the Housing Development Agency (HDA). The R110 million project is expected to be completed in 2014.
Nicolas Tsweu of the HDA said there would be 1 380 new houses built between now and March 2014. Over 500 houses have been completed and occupied since construction started in September 2012. An additional 1 060 houses will be built in future.
After participating in the construction, the delegation visited the Helenville Resource Centre where they went on a walk-about to see the building progress of the centre.
After the inspection of the resource centre, they visited a newly built house in Missionvale where a family of six is set to occupy the newly built house.
The new occupant of the house, 34-year-old Mbulelo Jamela said the new house would restore his family's dignity and enable him to raise his children in a decent home. "I'm happy with this house and we are ready to move in." From upgrading the newly built house, the delegation visited December Jafta, a 95-year- old disabled man who had been staying alone in a house. The house was dilapidated without a bed, furniture and in "no condition to house a human being". Various government departments contributed to the upgrading of the house.
Director General in the Presidency Cassius Lubisi said although the upgrading of the house might seem like a drop in the ocean, it would go a long way in restoring Jafta's dignity. The delegation concluded the campaign with a community meeting where community members raised issues that need government attention.