Enough is enough! Drug dealers beware! We are taking back our streets and we will fight for the rights of our children!" This is a warning from Eldorado Park parents, who have had enough of drug peddlers and dealers taking over and destroying their children's lives.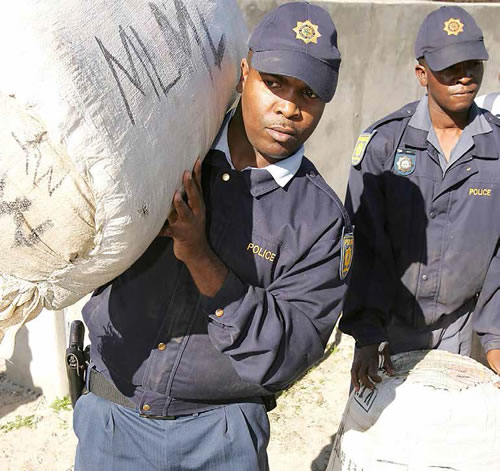 The area came under the spotlight after President Jacob Zuma visited the drug-ridden community this year, following desperate pleas from parents for action to be taken against drug dealers.
Following the visit, Government established a Presidential Inter-sectoral Plan in Eldorado Park bringing together the police, the departments of Social Development, Community Safety and Basic Education, as part of a Drug Master Plan to reduce drug use.
Ties have also been strengthened between the police and community members, which has led to almost 1 500 arrests, up to seven kilograms of drugs and more than 600 tablets being seized in just two months.
Thirty seven more police officers have been deployed to the area to intensify policing.
"We are working night and day and over weekends to crack down on drugs, crime and other problems in the community," says Communication Head of Eldorado Park SAPS, Captain Phillemon Khorombi.
"The only way to win the war against drugs is to fight together - the police, parents, learners, teachers and community members must join hands."
This call has been heeded by mother of two, Dani Williamson. "We used to blame the police a lot for problems in the community, but if we as parents do not take responsibility for our children, how can we expect others to?"
Williamson, along with a group of parents spoke to Vuk'uzenzele, during a recent visit to the community. "People are no longer afraid to re- port crimes because we know now that the police mean business," says Eldry Jacobs. "We cannot be afraid of these druglords anymore."
Reports of drug-related crimes have drastically increased thanks to an anonymous SMS tip-off line 32211 launched by the Eldorado Park SAPS. The tip-offs have led to 25 lolly lounges being shut down in the area. A lolly lounge, explains Capt Khorombi, is the township name for homes where people sell and do drugs. Most of the young drug users are girls, some still in high school. These youngsters get caught up with the wrong group of friends, and bunk school and spend their days in these lolly lounges, whilst their parents think they are still at school.
To combat this, the police have implemented a school monitoring team headed by Constable Natasha Govender. An Adopt-a-Cop programme was introduced at 17 schools in the area, and during school visits and raids, the team confiscated dagga, liquor and mandrax. The Department of Basic Education has also identified nearly 700 learners from high schools to undergo Behavioural Change Educational Camps during school holidays.
Capt Khorombi says the most common drugs used are Crystal Meth, CAT and a concoction called Nyaope. Nyaope is a mixture of heroine, dagga, battery acid, rat poison, ARVs and other dangerous ingredients. Despite Nyaope not being recognised in terms of the Drug Act, it is still very much used.
The departments of Social Development and Community Safety in Gauteng have also run workshops for parents to identify children hooked on drugs.
Signs to look out for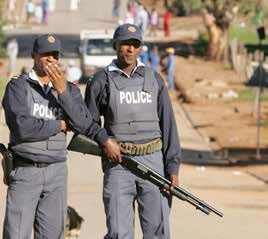 The workshops teach parents to look out for signs of drug use in their children. Symptoms include children becoming withdrawn and isolated, staying in their rooms, losing appetite, or eating too much. Some become violent and aggressive, and keep bad company. "Parents must be aware of where their children are at all times, and who they are hanging out with."
The police have also increased their monitoring of the area, conducted raids and random stop and searches on more than 23 000 vehicles. Police have also re-opened 279 cases that had been withdrawn. They have been re- sent to the Senior State Prosecutor, complete with drug lab reports.
The Department of Social Development has also introduced a substance abuse programme in partnership with the Ke-Moja drug prevention programme. Support groups have been established and 15 children sent on a diversion programme.
Gauteng Provincial Commissioner, Lt General Mzwandile Petros, thanked the community for its cooperation. "The com- munity has come forward with information that has assisted the security forces in searching, arresting and seizing drugs in the area. We have extended our focus and have included surrounding areas like Ennerdale, Lenasia, Soweto, Windor and Westbury. These high visibility operations will continue and we appeal for more information from community members."
People with information on any Drug related activities can anonymously contact Crime Stop at 08600 10 111 or SMS Crime Line at 32211. All information received will be treated as confidential.
Did you know?
Safety and security
The crime rate is coming down, although it remains at a very high level.
Statistics SA 2012 Victims of Crime Survey (VOCS) showed that 60% of households expressed satisfaction with the manner in which police and courts were doing their work.
Contact Crimes rate per 100 000 of population
| | | |
| --- | --- | --- |
|   | 2003/2004 | 2011/2012 |
| Social Contact Crimes |   |   |
| Robbery contact crimes | 42.7 | 30.9 |
| Murder | 64.8 | 29.4 |
| Attempted murder | 605.7 | 359.1 |
| Common assault | 560.7 | 560.7 |
| Assault grievous body harm (gbh) | 142.5 | 127.5 |
| Sexual offences |   |   |
| Robbery contact crimes | 288.1 | 200.1 |
| Common robbery | 206.0 | 104.7 |
Source: Development Indicators Report, 2013