As learners return to school for another academic year, Basic Education Minister Angie Motshekga has assured them that textbook delays are a thing of the past.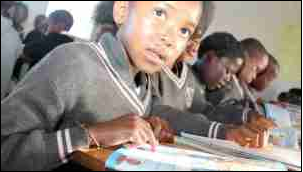 "We are confident that at the start of the school year, all learners will have a textbook in their hands," said the Minister.
The Department of Education (DBE) is aiming for each child to have one textbook per subject.
The delivery of textbooks is almost complete.
Although there were challenges in provinces like KwaZulu-Natal and the Free State, the department is confident that they will overcome these in time for the start of the school year.
According to the department, the provinces used different methods to secure textbooks for learners.
Some provincial departments experienced challenges, such as issues with the budget, while trying to get the textbooks.
However, the department has been monitoring the situation and has it under control.
Minister Motshekga said progress has been made in the distribution of Learning and Teaching Support Material (LTSM) with over 50 million workbooks distributed every year.
This is part of the department's commitment to improving literacy and numeracy skills of learners.
Meanwhile, the department intends to start introducing the African Language Policy this year, which aims to promote and develop languages that have previously been side-lined.
"The department will be introducing the policy to expose learners to languages academically that they may use at home but do not study as part of the curriculum, as well as introduce those who have never been exposed to an African language," Minister Motshekga said.
African languages do not enjoy the same development and status as English and Afrikaans.
For this reason, the department will, over time, ensure that all African languages are equally developed and used by learners in the best interest of their learning and performance in their 12 years of schooling.
This means that once the policy is introduced learners will be offered three languages resulting in extra two or three hours of teaching and learning per week.
This proposal has been widely welcomed, with the consultation process still on-going. "As the department we are ready to incrementally introduce the African language as an additional language with full Grade 1 implementation by 2015."
The delivery of quality education to all pupils in the country has also been hampered because of the shortage of school furniture.
Minister Motshekga said initiatives have been put in place to address this, including the establishment of an interprovincial task team on school furniture, as well as an agreement between DBE and the Departments of Labour, Correctional Services and Environmental Affairs for the manufacturing and delivery of school furniture.
"Through this programme we have seen the delivery of furniture to 181 schools," she added.