For a group of elderly women in Roodepoort the entrepreneurial spirit was awakened by the experience of retrenchment and desperation.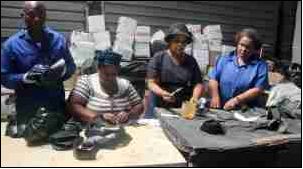 After working for years in the shoe manufacturing industry they were "let go" by their employers in 2006 but they were not ready to give in or retire yet.
The women combined their knowledge, resources and experience in making shoes to form their own cooperative and have not looked back since.
The Ujima Bakwena Cooperative manufactures school shoes that are bought and distributed by government with uniforms, free of charge, to needy children in schools across Gauteng.
Mbali Ngwane, deputy director for Special Projects in the Sustainable Livelihoods Unit of the Gauteng Department of Social Development, says Ujima Bakwena is contracted under the School Uniform Project – part of the Bana Pele (children first) programme which "provides a basket of services to vulnerable and orphaned children".
Members of the cooperative recall the dark years from about 2006, when they were unemployed and the future looked bleak. But the Department of Social Development brought together two struggling cooperatives, Ujima and Bakwena, to form a solid business financed by the National Development Agency (NDA).
The first two years were particularly difficult, recalls Tshidi Sethoga, chairperson of the group. "We worked for two years without pay."
Sethoga, who worked for Junction Footwear in Roodepoort from 1998 to 2005, says the women enjoy the challenge of running their own business and will never work for another employer again.
She adds that members of the cooperative used the money they received from the NDA in 2008 to buy machines which helped increase their productivity.
Today, the cooperative makes and sells school shoes branded African Action at competitive prices. Besides school shoes, the cooperative also produces sandals and army boots, says Fikile Zikhali, deputy chairperson of the cooperative. Seventeen members of the cooperative and 23 other employees work at the factory. One of the employees is Mhlangana Mchunu, a disabled father of five, who says he's now able to take care of his family. "Working here has helped me a lot. I have acquired experience and I can look after my children."
This year the department signed contracts with 444 cooperatives to provide clothing, textile and footwear to about 110 000 needy children from school across the province," says Ngwane.
What sets Ujima Bakwena apart is that it is a group of women who put aside their differences and combined their human capacity to pursue their common interest, she says.
"They are driven by the passion to alleviate poverty within their families and in the broader community. Most of them come from closed down factories and they had little knowledge of managing but had the hunger to learn - that's why they are able to generate profit."
Ngwane says the women also plough their profits back into the business to ensure that the cooperative grows its capacity every year.
As a result the department has increased the order every year – this year it's 55 000 pairs. Zikhali says the advantage of the cooperative as a business model is that it benefits many people.
"With a cooperative, it's easy to create jobs." She encourages other people to open their own cooperatives and help create jobs.