Written by Sydney Masinga
Youth matters
Fire fighting has saved a young Mpumalanga woman from selling her body to earn a living.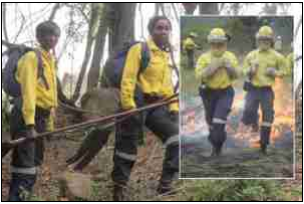 Phindile Mgibe, 26, from Barberton, is one of the only 112 female fire fighters in the province.
When her parents died a few years ago and she was left to care for her three younger siblings, Mgibe considered becoming a prostitute to earn money.
"When our parents passed away there was no one to provide for us. Against my better judgment, I almost joined the other girls on the streets who were prostitutes so I could provide for my family," said Mgibe.
Her prayers were answered when her application to the Working on Fire (WoF) fire fighting programme was approved in 2013.
"Now I am able to put food on the table for my family. I encourage other young women to look out for the WoF recruitment notices and apply," she added.
According to fellow female fire fighter Smangele Mawelele, the job is challenging but fulfilling.
"Every day when I see myself surrounded by mountains and forestry, I am encouraged and proud of myself," said the 20-year-old, who is also from Barberton.
WoF's provincial general manager Martin Bolton urged other young women to follow in Mgibe and Mawelele's footsteps by joining the once maledominated profession.
"We only have 112 female fire fighters across the province, which is not enough. We are still looking for more female fire fighters who are physically fit and healthy to join the programme. We believe that our young women in the province of the rising sun will play a crucial role in fighting unnecessary veld and forest fires," he said.
WoF's recruitment programme is aimed at creating jobs and addressing poverty.
Bolton urged women to look out for the recruitment notices placed in public areas such as shops, taxi and bus ranks.
"They must take advantage of those opportunities when they are advertised, usually during the fire season," said Bolton.
Fires are common during August, September and October in the province.
According to WoF, the province is more likely to be affected by wildfires because of the large areas of forest.
Wildfires have caused significant damage in the past. In 2007, fires that blazed between July and the September killed 13 people, including six fire fighters. About 40 200 hectares of plantations and 16 000 hectares of grazing fields were also destroyed.
In 2008, 67 fires were reported between April and October while four people, including a fire fighter, were killed and 325 injured.
The fires also destroyed 33 000 hectares of vegetation, including trees in commercial forestry plantations.
Forestry South Africa, the country's largest forestry organisation representing timber growers, reported that Mpumalanga's forestry sector was hard hit by the 2008 fires, suffering losses estimated of R3.5 billion.