An Mpumalanga vegetable farmer, who lost his farming equipment when floods ravaged the area 13 years ago, has found success in mixed farming.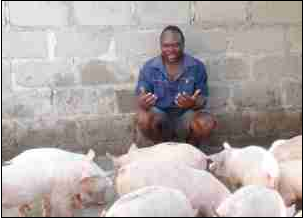 Raymond Sibuyi, of the Green Farm Piggery Project in Mkhuhlu near Hazyview, started farming in 1997.
However, in 2000 floods destroyed his irrigation system and pumping engines.
"The damages were severe and proved to be too costly for me to bounce back. I was forced to quit farming and went into construction to earn some money to revive my farming career," said the 49-year-old.
This eventually happened in 2007 when Sibuyi started his vegetable farm from scratch. Later he was introduced to pig farming.
Sibuyi's farming ambitions were realised through the help of the Mpumalanga Department of Agriculture, Rural Development and Land Administration's Masibuyele Emasimini (Back to Farming) and Masibuyele Esibayeni (Back to the Kraal) programmes.
The Masibuyele Emasimini programme was introduced in 2005 to encourage communities to take advantage of government's agriculture-related projects.
The programme encourages households to use their backyards and fields for household food production and provides support through machinery, technical and advisory services to poor communities.
The Masibuyele Esibayeni programme started in 2011 after livestock farmers raised concerns that they were not enjoying the same benefits that crop farmers did through the Masibuyele Emasimini programme.
Vegetable farm
Sibuyi is happy with the assistance he received.
"The department helped me with tools for my vegetable farm through the Masibuyele Emasimini programme.
"As part of the Masibuyele Esibayeni programme I received 10 pregnant sows and a boar," he recalls.
Sibuyi was allocated 10 hectares of land by the Nkuna Tribal Authority in Mkhuhlu. He uses eight hectares for vegetable farming and the rest for the pigs.
Sibuyi says livestock farming comes with its own challenges.
"I had about 126 pigs but ended up with 84 the when others died. I am not sad because I have the vegetable farm as well.
"Mixed farming is very interesting and saves on costs because any vegetables that are not sold are used to feed the pigs, while the manure that comes from the pigs is used for the vegetable farm."
He supplies the Barberton Abattoir with pigs, provided the pork quality meets the requirements and Fresh Mart with vegetables. "It has always been a farmer's challenge to find a market for the product and I was fortunate to source the market with the assistance of the department."
Sibuyi employs 12 permanent workers and 20 temporary workers.