Written by Noluthando Mkhize
Your dream job could turn out to be your worst nightmare.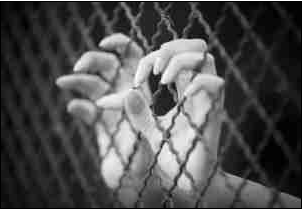 This is the warning from the Directorate of Priority Crime Investigations, also known as the Hawks, following an increase in human trafficking. Human trafficking refers to cases where victims are lured from their homes and kept as sex slaves or forced to work for little or no money, losing their freedom in the process.
According to the Hawks, the method used by human traffickers is similar in most countries, where victims are offered great job opportunities.
"Victims are transported to the destination where exploitation will take place or where they will be hidden before exploitation. They will be told to pay off their debts which include transportation, food and accommodation," said Hawks spokesperson Captain Paul Ramaloko.
In some cases victims are taken to a different country or even another province where they are exploited.
Captain Ramaloko said victims are some times drugged, which makes them dependent on their traffickers.
They are then forced to work for their traffickers to get more drugs.
The high unemployment rate in South Africa is a contributing factor to human trafficking, he added.
Hotspots
According to Captain Ramaloko, the crime is most prevalent in KwaZulu-Natal, Gauteng and the Western Cape.
From April 2012 to March 2013, the Hawks dealt with 19 cases of human trafficking, mostly involving women from other countries who were brought to South Africa.
"It is important to note that cases are only opened where there are victims. There were also rescue missions that were conducted but cases were not opened. Trafficking means that there is a victim and if the victim is not willing to cooperate or to open a case, nothing can be done," Captain Ramaloko added.
The Hawks are training police to identify cases of human trafficking and swiftly deal with them.
"We train members from the stations and ports of entry. We also train other law enforcement agencies in the Southern African
Regional Police Chiefs Cooperation Organisation region, which is an investment for the country because it will also help in fighting human trafficking in South Africa." Apart from detecting and investigating human trafficking police also carry out awareness campaigns to educate the public. Captain Ramaloko said traffickers could be spotted at the recruitment phase.
Offers that seem too good to be true are early warning signs of trafficking. Victims need to be more streetwise by alerting others about their whereabouts.
"For example they can take down the registration of car picking them up and SMS it to a friend or relative.
"They can also ask for assistance from the police stations or from the trafficking hotline for checks of some of the offers," he added.
Warning signs:
A person's passport is kept by someone else.
Some sort of concealment (kidnapping) of a person.
A person is accompanied by someone who speaks for them.
A person appears to be fearful of or under the control of another person.
A person cannot leave a job to find another one and does not have control over wages or money.
A person works but does not get paid normal wages.
A person has no choice about hours worked or the working conditions.
A person works long hours, lives at a work site or is picked up and driven to and from work.
A person show signs of physical abuse or injury.
A person owes money to their employer or someone else who they feel honour bound to repay.
A person is not working in the job originally promised to them.
A person is forced to provide sexual services in a strip club, massage parlour, brothel or other locations
Human trafficking can be reported at police stations or contact the human trafficking hotline on 0800 737 283 or 0800 555 999.