When Peter Sekwele abandoned his business to start a cooperative he could never have imagined how successful it would become.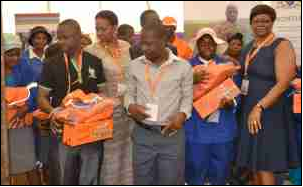 What started as a garden at his and other community members' homes has mushroomed and Sekwele and his partners will soon be supplying Massmart, which is owned by US retail giant Walmart, with vegetables.
A qualified boilermaker by profession, Sekwele, from Sokhulumi village in Gauteng, was selling iron kettles when he decided to help feed his community and create jobs.
Sekwele and 24 others each had gardens at their homes and decided to pool their efforts and started the Akwande Food Garden Project in 2010. The cooperative faced a major challenge because of a lack of space.
However, the cooperative's fortunes improved when the local chief, Joyina Mahlangu, agreed to give them 2,5 hectares of land to plant vegetables.
Now, the Akwande Food Garden Project employs 20 locals.
Sekwele said although the cooperative was already selling to Pick n Pay, Spar and Shoprite, they were excited by government's efforts to help them access a new market - Massmart
"I can proudly tell you that Akwande Food Garden Project now has a market. They are going to be among the biggest producers of tomatoes in Gauteng if not in the country," said Gauteng MEC of Agriculture and Rural Development Nandi Mayathula-Khoza, who visited the project recently.
She added that government was pleased to see people working together to fight poverty, unemployment and hunger through agricultural cooperatives.
Rural Development and Land Reform Minister Gugile Nkwinti was also overjoyed.
"I'm really happy with the great job being done at this project. This is a typical Masibambisane project because government and the private sector are providing support, while the people are in charge of their own cooperative.
"With government supporting their cooperative, this project will never become a white elephant. What is happening here is just brilliant."
Job creation and food security
Sekwele said since they started the food garden in 2010, residents are no longer travelling to retail stores in Bronkhorstspruit to buy vegetables.
"I can proudly say that we are feeding our community with our fresh produce and we've already created permanent jobs for 20 locals, of them 16 are women. We grow tomatoes, cabbage and beetroot."
Sekwele was surprised and honoured when the Minister and MEC visited the project.
"I never thought the leadership was aware of what we are doing here at our remote area. Their visit today will encourage my colleagues and I to continue working very hard to produce more food, not only for our community, but for the country as a whole," he said.
The project uses the hydroponics method, which uses a nutrient solution rather than soil, to grow tomatoes. Growing tomatoes hydroponically allows Sekwele and his team to grow them in a controlled environment without weeds, insects or soil-borne diseases.
A hydroponic system also optimises space. Hydroponic tomato plants grow faster than soil-grown plants and their yield is greater.
Apart from farming, the cooperative is keeping the kids of the area occupied by putting up swings and slides on the land. Sekwele said the cooperative installed the equipment "so that when the mothers are busy working at the project, their kids can play".
Last year, Agriculture, Forestry and Fisheries Minister Tina Joemat-Pettersson signed an agreement with non-governmental organisation TechnoServe SA and Massmart, which is aimed at creating jobs and providing support for smallholder farmers, particularly women farmers, in poor communities.
The R 15 million investment includes training, mentoring, technical assistance and establishing essential links to both finance and retail markets.