Written by Samona Murugan
The Union Buildings in Pretoria, one the of the country's most recognisable buildings, celebrated 100 years in November. To mark this important milestone, a golden statue of former President Nelson Mandela was erected – just days after he passed away.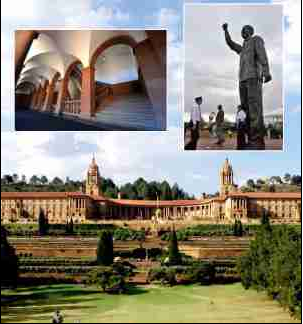 The nine-metre statue of former President Mandela cost a staggering R8 million to create. The unique bronze-plated statue was created by local sculptors Andre Prinsloo and Ruhan Janse van Vuuren.
It portrays a smiling Madiba, standing with arms outstretched and one foot slightly forward. Prinsloo said the project had been a life-long dream of his. "His pose depicts how he embraces the nation, " he explained.
Arts and Culture Minister Paul Mashatile said the new statue was an enduring symbol of our struggle for freedom, democracy, dignity, and equality. The statue is three metres taller than the six metre high Mandela statue at Nelson Mandela Square in Sandton, Johannesburg. Minister Mashatile announced the new statue as part of governments efforts to establish new symbols to reflect the collective aspirations of South Africans.
It is only fitting that a statue of Madiba be erected in the very same building where he was inaugurated as the first democratically elected President of South Africa in 1994.