On the streets of Khayelitsha, amid street vendors selling anything from socks to sweets, past shacks and houses and between hooting taxis, lies Cape Town's first upmarket township coffee shop.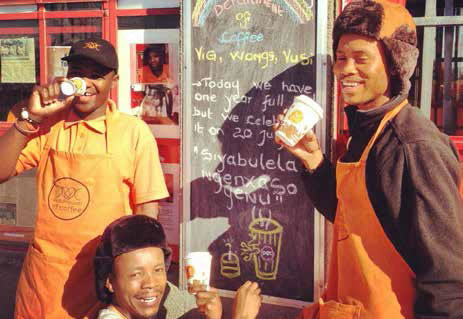 The Department of Coffee (DOC), started by best friends Vusumzi Mamile, Wongama Baleni and Vuyile Msaku over a year ago, has not only improved the culture of coffee drinking in the area but has also become a bustling tourist attraction.
From children stopping to grab a cup of hot chocolate on their way to school to businessmen enjoying a coffee during their lunch break, DOC has certainly put coffee on the map in this township.
Baleni, a former fireman, always fancied himself as a businessman. After he and Mamile attended a life skills and mentorship training programme they brewed the idea of starting their own business but could not figure what they would excel in. At the time Msaku was working as a barista, a person skilled in the art of coffee making, and the trio decided a coffee shop would be ideal.
"We had to come up with an idea that was unique and would also work in our community so it was very important to do market research before we began," said Baleni.
However, the community didn't exactly welcome the idea of a coffee shop in the area.
"People told us they would not pay for a cup because they could have their coffee at home."
So the trio went back to the drawing board and decided to not only offer coffee but a wider range, from cappuccinos to espressos
- all at affordable prices. These were drinks the community were never really exposed to because of the high prices they are sold at coffee shops in the city.
With the idea swirling, they approached Murray Ingram, an entrepreneur passionate about youth development. Ingram began making calls and approached the Ministry of Service Delivery, an initiative committed to boosting job creation among youth, who agreed to loan them money to start up the company.
Ingram helped them for two years and after finding the perfect premises, designing logos, coffee cups, uniforms and perfecting the menu and products, DOC was ready to open its doors for business. The coffee shop, situated next to the Khayelitsha train station, is now a place for locals to hang out with benches outside and an over the counter service style.
What makes the business thrive is the affordable prices of their beverages - from R6.50 for a cup of coffee to chococinos, lattes, foamy cappuccinos and iced freezeeccinos for all under R10.
"You could never get drinks like these at these prices anywhere else in the city, says Baleni. Not wanting to leave their customers hungry, the team also serves up assorted muffins and snacks. DOC delivers to the nearby hospital, businesses and government departments.
The success of the past year has made the team dream and think bigger. They want to open more branches across the city and ensure the DOC name is associated with quality and affordability.
The men are also role models for youngsters in their community.
"Many of the young kids think all they can do is sell cigarettes and food on the side of the road or become taxi drivers. We try to inspire them to think and dream bigger and work hard at school so they can one day become entrepreneurs like us."
Giving back to the community is key, say the trio. This they do through their Muffin Run initiative. "We encourage customers to buy muffin vouchers at just R3 and once we have enough vouchers, we deliver muffins at local schools and crèches to feed the children."
The DOC also holds open days every month that see people and tourists from across the city flocking to the township by train for the open-air market.
For more information on the next open day or how you can donate to the Muffin Run contact Baleni on 078 086 0093.
You can also visit DOC on the corner of Ntlazane Road and Khwezi Crescent in Khayelitsha for your next coffee fix.