Written by Samona Murugan
For the past decade, some families near Galeshewe in the Northern Cape have been living in rickety structures made of cardboard boxes, corrugated iron, plastics and even fencing. Now, thanks to a new housing development, 500 families are about to become proud new home owners.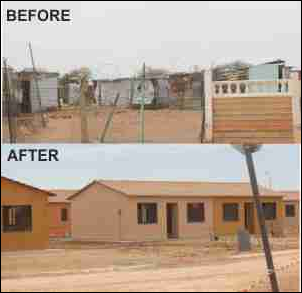 These families can expect to move into their new homes by the middle of the year.
The new development, known as Lerato Park, was launched in October 2013 by Deputy Minister of Human Settlements Zou Kota-Fredericks together with the provincial MEC Human Settlements Alvin Botes.
At the launch nine families received ownership certificates and the keys to their new homes.
About 200 homes that form part of Phase 1 have been completed but the families will only move in later this year once Phase 2 developments are complete.
One of the beneficiaries is 79-year-old Adwang Jacobs. She is the oldest beneficiary and will become a home owner for the first time. Jacobs, who lived in a shack with her daughter and grandchildren for the past 15 years, Noluthando Mkhize could not hold back tears when she held the keys to her new home.
She told Deputy Minister Kota-Fredericks she thought she would live in her shack for the rest of her life and was grateful to government for her new home.
Among the list of beneficiaries announced the Deputy Minister was Diarajwaemang Mecwi and Sedia Moemedi who have passed away.
"We will award these homes to their families to allow their children to grow up in a comfortable environment with dignity," said the Deputy Minister.
The new homes are part of the government's informal settlement upgrading programme and will not just shelter the beneficiaries but will also give them access to water, sanitation, electricity and recreational facilities, she said.
"President Jacob Zuma said that we must be a government that serves the needs of our people - we must be service-oriented and ensure that we deliver the services that our people need effectively, efficiently and speedily. He made it clear that we must not make empty promises, we must not just talk - we must act," said Deputy Minister Kota-Fredericks.
The new development, which cost an estimated R171 million, will see over 4 000 people of different ages and races living in together. The homes will vary from stacked apartment blocks to single story units which will be partially and fully subsidised as part of the new Finance Linked Individual Subsidy Programme (FLISP) housing, which is a first for the Northern Cape.
In addition to providing homes for the poor, the next phase will include subsidised housing for government officials who cannot afford bonds of their own, said the Deputy Minister.
Once completed Lerato Park will include 5 000 units creating homes for almost 30 000 people. To date, the project has created employment for over a 1 000 local youths who were taught skills such as paving, bricklaying and plumbing.
The Northern Cape also has another housing development called Ou Boks in the Colesberg area in the pipeline. The R57 million new development will fall under the Umsobomvu Municipality and will consist of 1 500 homes