The KwaZulu-Natal (KZN) Department of Education recently handed over the newly-built Langa High School. Situated in Belgrade, Pongola it is worth R34 million. This forms part of the department's drive to develop education infrastructure in the province.
MEC for Education Mtha-ndeni Dlungwana said the investment in the school shows that government is serious about developing the standard of education. "By building this school we want to ensure that the children from this community are well educated." He said this was one of many schools that the department is building and refurbishing in the province. These schools are equipped with the necessary features for teaching and learning.
"We recently opened two new schools, one in Jozini worth R34 million and another newly renovated school in Eshowe to the value of R10,5 million," said MEC Dlungwana during the official opening of the school. Langa High School has, among others, 25 classrooms, eight special classrooms, a media centre, a computer centre, science and life sciences laboratories, an electrical technology workshop, a consumer studies class, sport facilities, and a kitchen.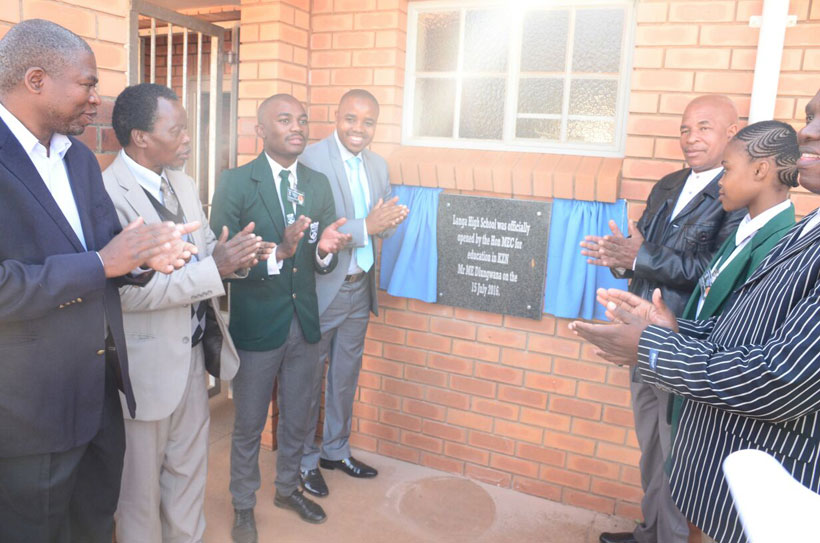 The MEC encouraged the school and community to keep the school clean and free from vandalism. "With the leadership of the school principal and the school governing body and the community in general, I am confident that this school will be well taken care of. We want future generations to also be able to receive good quality education from this school."
"I really want the community to know that this school belongs to them. They also need to play an important role in keeping the school in a good condition." Principal Mla Dlamini said the school and community have responded positively to the new facility.
"The community has come together to ensure that the school does not get vandalised; it is truly the community's pride and joy." Dlamini adds that the school has 1 250 pupils and 46 educators. "Prior to the new school being built we had about 15 classrooms and serious overcrowding but now we have 25 classrooms. This makes teaching and learning much easier." He added that the new facilities at the school would benefit learners and better their knowledge.