Written by Noluthando Mkhize
Information and communication technologies (ICT) have the potential to boost the economy, empower women and increase access to education across the country.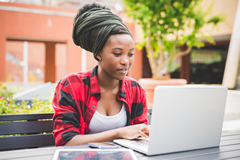 According to Deputy Minister of Telecommunications and Postal Services Hlengiwe Mkhize, with a push in the right direction, ICT could provide many South Africans with a livelihood.
"With ICT skills we have an opportunity to not only talk economic growth but also about how we can become as inclusive as possible by creating a value chain of entrepreneurs."
She added that the industry is important because people from rural areas, who would have been excluded and isolated, are now able to connect to the rest of the world through ICT.
The Deputy Minister said ICT also has the potential to change the lives of learners.
 
The department aims to do this through the School Connectivity Programme, a partnership with the private sector that takes ICT to
government schools.
Telecommunication infrastructure available for learning and teaching is increasing and this is enhancing the quality of teaching and learning.
"Currently, we have connected 11 528 schools nationally. Of these, 3 793 are located in rural areas and 6 223 are in urban areas. The education element is so important because the work we do helps us to improve education outcomes."
Reflecting on the number of women in telecommunications, Deputy Minister Mkhize said that while women are slowly bridging the gender gap, there are not enough females in executive and decision-making positions.
To bridge the gap further, the department was part of the Techno Girls programme, which introduces young women to ICT.
The Techno Girls programme is aimed at addressing the gender gap in sectors that are traditionally male-dominated.
Through this programme, young women doing Grades 9 to 11 are introduced to ICT as an area that they can pursue after high school.
"We have also been talking with the Department of Higher Education and Training to provide support to girls who want to enter the ICT space by providing them with scholarships so that more women join this sector.
"The more support we have for women the easier it will be to close the digital gap."