A two-year deal between Square Kilometre Array (SKA) South Africa and telecoms operator Vox Telecom will see households in the rural communities in Northern Cape getting high-speed broadband connectivity.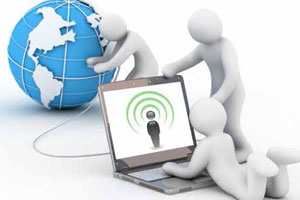 Speaking after the official announcement of the partnership, Alternative Communications and Spectrum Manager at SKA South Africa, Selaelo Matlhane said the deal would benefit both farmers and rural communities situated in areas protected by the Astronomy Geographic Advantage Act in the Karoo.
"When we came to the Karoo, we found the area with very little means of communication… Through this partnership… we are giving the community broadband connectivity.
"This two-year contract will ensure that Vox delivers… We want to ensure that they install high-speed broadband in 15 households per month and as SKA, we will pay the capital cost," he said.
Matlhane added that SKA wanted to prove to the country that solutions such as the Northern Cape initiative could work.
"This is the first phase where we want to see a speedy deployment of satellite telecommunications. Vox got the contract [in December] but because they noticed that we need a speedy deployment, they have already started [working].
"As we speak, five houses already have - high speed telecommunications via satellite. They will have a very high-speed connectivity and means of communication, where they can call each other… The cost is very little to a point where it is only around two cents per minute when they are calling each other in the area.
"When they phone people outside their area, their rates will be comparable to any other cellphone or landline providers. Still, we have reduced the cost for satellite telecommunications to a very low cost because normally when people talk about satellite telecommunications, they talk about a very expensive solution.
"Basically, they will pay very little when they talk to each other," Matlhane said.
The SKA is an international initiative to build the world's largest radio telescope, which will enable astronomers to monitor the sky in unprecedented detail, thousands of times faster than any system currently in existence.
The lack of radio signals in the Karoo is what makes it one of the best locations in the world to build the SKA. However, Matlhane said protection requirements for the area meant that expanding access to telecommunications services needed to be done in a "radio astronomy friendly" manner that was affordable to local communities.
Matlhane said the Independent Communications Authority of South Africa (ICASA) had identified many villages in South Africa that did not have means of communications, since it was not financially viable for cellphone operators to deploy their resources to serve just a few people.
Most telecommunication operators prefer to go to towns where there are more people who can pay for the infrastructure, so that they can get a return on their investment.
Vox Telecom Senior Product Manager, Jacques Visser said: "As part of our long term strategy, we aim to bring high-speed internet connectivity to rural and agricultural areas in South Africa. We are excited about this opportunity to connect communities not only to their friends, families and suppliers, but also to the world of the internet."