Youth matters
Funeka Rexika Hardware Store, which started operating in 2013, is helping to create much-needed employment in the small town of Mataffin in Nelspruit, Mpumalanga.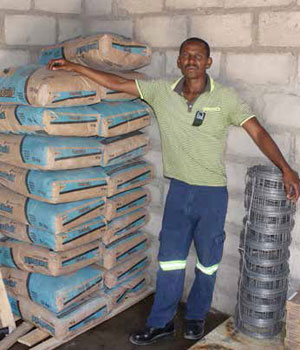 The owner, Jephrey Mathunganda, 35, runs the hardware store from his backyard and sells building material such as cement, brick force, tiles and wood.
Mathunganda's business is the only one that offers these services in the area and as such does not struggle to get customers. However, this has its own challenges.
"It's not simple running a business in a place where the people know you because some people will always ask to buy materials at a discount or on credit. If I say no, I don't know what they go around saying in the community about me," said Mathunganda.
Back in 1991, when Mathunganda worked at a hardware store, he had a dream to have his own store one day to cater to the needs of the community.
"I had a dream and knew the only way of realising it was if I had enough money to purchase the products, because I had already used the money I had to build business premises. I then decided to look for sponsorship and that was when I came across the National Youth Development Agency (NYDA)," said Mathunganda.
In the middle of 2013, Mathunganda applied for funding at the NYDA and he received R8 000 in July 2014 to buy material he needed to start his business.
The NYDA also took him through a small enterprise start-up course to help him understand how to manage a business.
Today his business is growing from strength to strength and he is able to make a decent profit every month. He employs three permanent staff members and two part-time workers. One of the part-time employees, Lindokuhle Mpinga, 23, is studying towards her matric qualification at an Adult Basic Education and Training centre in the area.
"I want to see my business grow so that I can create more jobs for the people in my area," said Mathunganda.