Written by Maselaelo Seshotli
Growing up in the small town of Vlaklaagte in Mpumalanga, Ernest Mahlangu wanted to become an information technology (IT) specialist.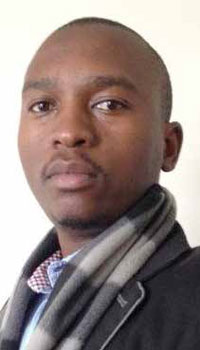 However, things did not go according to plan for the 29-year-old, whose application for an IT course was turned down. Mahlangu moved on to 'Plan B', which was architecture.
"I sketched a lot growing up and would sketch almost anything just to express my ideas on paper, this carried through from primary right through to high school. This is where my interest in architecture first started," said Mahlangu.
After his dreams of becoming an IT specialist faded, Mahlangu visited the Architecture Department at the University of Pretoria.
Drawn in by the models and drawings on display, he knew right away that architecture was what he wanted to do.
Mahlangu applied to study architecture and completed his degree at the university.
While looking for potential sponsors to fund his postgraduate degree in 2007, he came across the Masakh'iSizwe (MIS) Bursary and wasted no time applying.
The bursary is administered by the Western Cape Department of Transport and Public Works, through its MIS Centre of Excellence initiative. The centre works with higher education institutions (HEIs) in the Western Cape in developing programmes that highlight values and attitudes needed to develop the economy.
The bursary programme helps students pursuing diplomas or degrees in transport, engineering, the built environment or any other field identified as scarce or critical by the department.
He completed his Honours and Masters studies at the University of Cape Town in 2010, with the help of the MIS Bursary.
Mahlangu started working at the Department of Transport and Public Works in 2011 at the MIS Centre of Excellence as a candidate architect.
"The goal from the onset was to be a professional architect and I have just recently written my professional practice exam, so I am almost there," added Mahlangu.
"I never imagined that I would be working in the public sector, as there is not much design involved and my work is more project management, which plays an important role in the built environment."
Mahlangu's unit is responsible for providing education facilities throughout the Western Cape.
"I get to directly contribute towards nation building, which for me is very important. Every time a community receives a new school, it brings me more joy," he said.