Written by Amukelani Chauke
Youth matters
As a political activist, youth challenges like unemployment, drug abuse and HIV/ Aids were close to the heart of Buti Manamela.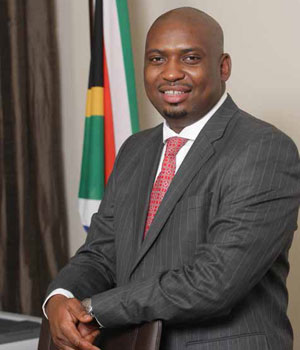 Today he is the Deputy Minister in the Presidency for Performance, Planning, Monitoring and Evaluation and is still addressing the concerns of the country's youth.
The Deputy Minister was a student leader in 1993 and held several youth activist roles before becoming a Member of Parliament (MP).
Five years ago, he was among those who helped draft the Youth Employment Accord. This is a social pact that government, business, labour, community and youth organisations signed at the Hector Pieterson Memorial, Soweto, on April 2013.
It pays urgent attention to youth employment and skills development, and has helped place tens of thousands of young South Africans in internships and created jobs in government and state entities.
"We need to get young people employed but we also need to get young people in education and skills institutions. We need to get young people into entrepreneurship. We need to get young people into internships," said the Deputy Minister, who was appointed in May 2014.
Statistics South Africa (Stats SA) reports that people aged between 15 and 35 make up more than 40 per cent of the population and 36 per cent of them are unemployed.
National Youth Policy
Late in 2014, Cabinet approved that the Draft Youth Policy 2014 – 2019 be made available for public comment. Citizens are being asked to tell government what the youth policy should prioritise.
The existing National Youth Policy outlines interventions to advance youth development. These include economic participation, education and skills development, health and wellbeing, civic participation and social cohesion, National Youth Service and youth work.
The progress made in assisting the youth is also being reviewed to make sure the National Youth Development Agency (NYDA), which was established in 2009, tackles youth issues successfully.
The Deputy Minister said when the NYDA was established, there was the perception that it would solve all challenges facing young people. The youth's expectations put a heavy burden on the agency.
"We are reviewing the mandate of the NYDA. We will most probably review the way in which it is structured through the act and what we want to do is finalise the National Youth Policy. We have until March.
"Once we have finalised those, we can then say what type of structures we need, over and above what government does," he said.
The National Youth Policy rests on four pillars – youth employment, entrepreneurship, education and skills and social mobilisation. These will take youth development forward if all government departments and state-owned entities work together, says Deputy Minister Manamela.
Service delivery
The Deputy Minister adds that one of the priorities of his department is monitoring the performance of front service staff at key service delivery departments.
"One of my passions has been the front-line service desk where we do announced and unannounced visits and we follow-up on the previous visits.
"In that way, firstly we get service to service delivery points to make sure that they deliver at all times," he said.
The visits vary from him visiting police stations, hospitals, clinics, schools, Home Affairs offices and even provincial NYDA offices.
"I think the idea that at any given point, either the President, Deputy President, Minister or Deputy Minister would have an unannounced visit keeps most of our public servants on their toes to ensure that they get government to work," he said.
He also oversees the performance of the Presidential Hotline and the Presidential Siyahlola visits.
These served as crucial platforms for members of the public to interact directly with their leaders, and raise their concerns and aspirations directly.
Listening to the youth
The Deputy Minister is active on Twitter, a platform through which the youth have been able to raise their concerns with him.
"It is a social space where unedited, young people get to say what they think. There is constructive criticism; there are issues that young people raise. I think for the past six months, they have been tweeting about issues mainly about the NYDA.
"Young people complaining about services [they are or not receiving], and I have been forwarding them to the NYDA and they have been able to respond on the issues raised. So I have generally been getting constructive feedback."
The Deputy Minister's username on twitter is

@butimanamela

.