Written by More Matshediso
Visually impaired elderly citizens in Ga-Rankuwa, north of Pretoria, are planting vegetables to alleviate poverty and create jobs.
Joyce Sibeko, 68, is the founder and chairperson of Ikemiseng Association for the Blind in the area. Her farming association specialises in planting and growing vegetables such as spinach, carrots, beetroot and onions.
Her agricultural project dates back to 1995, when she joined forces with her fellow visually impaired neighbours.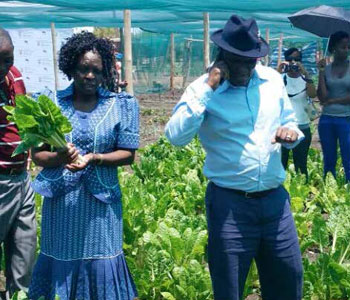 "I started this project because I had realised that many blind people did not have sufficient food in their homes here in Zone 2 [Ga-Rankuwa]. Houses in this area were built for blind people," said Sibeko.
She then went on a door-to-door visit, asking neighbours to join her in planting vegetables in their backyards so that they could put food on the table.
In 2002, she and her counterparts successfully applied to the Department of Rural Development and Land Reform for land for farming, and they have not looked back since. They were given 18 hectares.
"We also ventured into a bakery and detergents business but we had to stop due to lack of funds," she added.
Sibeko said their efforts received a great boost when department provided them with funding in 2013.
Sibeko said Ikemiseng Association for the Blind still has a few challenges, including insufficient resources required to grow the project.
"We have trees and stems that need to be rooted out of our garden. We are only using two hectares out of 18 hectares of our land. We also had to retrench some of our workers because we could not afford to pay them," said Sibeko.
The farmers use a generator to draw water from a nearby river to water their vegetables.
A chance to grow
Sibeko's grandson, Phumelele Zimbaye, 23, said Ikemiseng was likely to expand and create more jobs for the benefit of visually impaired people and the sighted.
"When looking at the business side of the association, I see a lot of growth. Imagine once we start using the entire 18 hectares and get introduced in the market, we will be able to supply our vegetables everywhere," Zimbaye said.
Currently, Ikemiseng only supplies vegetables to customers in Ga-Rankuwa and Mabopane, also north of Pretoria.
Zimbaye said a total of 12 visually impaired people who started the project (including his grandmother), were still part of it and they received a lot of support from the community.
"Some people volunteer to work in the project. We have about six community members who are not visually impaired, who are handson at the project," he said.
Rachael Kgatjepe and Dorris Ngwako, Ikemiseng members who are not visually impaired, were sitting outside the vegetable garden with bunches of spinach on sale. They said business was good. At times, the association donates vegetables where needed and also supplies to pre-schools and at funerals.
Zimbaye said about 25 people, including volunteers, are involved in the project. Ikemiseng also has youth on the waiting list, who want to be part of the project.
"We want to start a programme where we will provide [young people] with skills development in terms of agriculture. We want to partner with the school for the blind (located near Ikemiseng's garden)," he said.
Private sector support
When Deputy Minister of Agriculture, Forestry and Fisheries, Bheki Cele, visited Ikemiseng Association for the Blind, he was amazed by the work they do.
"The Department of Agriculture is mandated to create… jobs and bring on young people and people with disabilities. This is a start. Several government departments should come on board with regards to this project. It is an initiative that will have to be supported," said the Deputy Minister.
He also called on the private sector and community members to show their support.
"With 18 hectares, they can be self-sufficient and sustainable. They can even be rich from this, if they maximise land use," he said.
The Deputy Minister said he would also request the Department of Social Development to support Ikemiseng by buying vegetables from the association when packaging food parcels for the needy.
Deputy Minister Cele said out of 12 colleges and six universities that provide agriculturerelated studies in the country, government should liaise with institutions to ensure that they devise special programmes to accommodate more visually and hearing impaired students who are interested in farming.
He said government would continue to support such initiatives, where community members make the effort to fight poverty and unemployment.