Hard work, dedication and discipline were the ingredients of success for these top performing learners.
Rashmika Deeplal, a top learner in quintile four (fee paying) schools, was one of the 23 students invited to attend the 2014 matric results announcement by Basic Education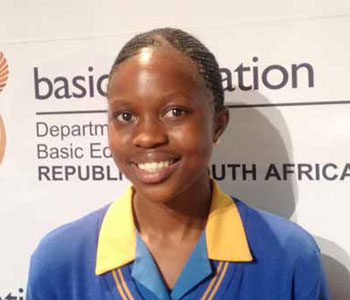 Minister Angie Motshekga in Johannesburg, Gauteng last month. The class of 2014 achieved a 75.8 per cent pass rate.
Deeplal, from Isiphingo Secondary School in KwaZulu Natal, told Vuk'uzenzele that her achievement came as a surprise to her and that it made her feel very happy that all her hard work has finally paid off.
"It makes me feel appreciative of all the support that my siblings, parents and teachers have given me," she said.
She said at some stage she felt doubtful but what helped her was remembering her goals.
"It does not matter what you feel, as long as you know you have done your best," she said.
Deeplal encouraged the class of 2015 to be consistent with their studying and start working hard from day one.
She said she is looking forward to studying medicine at the Nelson R. Mandela School of Medicine in KwaZulu-Natal.
Another top achiever was Masindi Mphephu of Thohoyandou Secondary School. She came in third in quintile three (no-fee) schools. Mphephu said her parents bought a lot of books that helped her to achieve the sterling results.
"It has been very hard… I attribute my achievement to hard work and the support from my parents. My mother would sit with me through the nights and make sure that I studied all the important subjects," she said.
Mphephu, who has two siblings, will be studying towards a Bachelor of Accounting Science at the University of Witwatersrand this year.
In total, there were 23 top achievers from the 2014 Grade 12 class and all of them received various gifts from various sponsors who were present at the matric results announcement.
Gauteng had the majority of top achievers in all the categories.
Minister Motshekga said the quality of education of any system is predicated on the quality of its teachers.
She said the qualification profile of teachers in the sector has improved from 53 per cent in 1990 to 97 per cent in 2013.
"The President has been making a call to make education a societal issue and school governing bodies part of the key role-players.
"Going forward, we will work hard to sustain improvement in learner performance, enhanced accountability at all levels of the system, greater focus on basic functionality of schools, and protecting time for teaching and learning," the Minister said.
The department will also improve monitoring and support for teaching and learning.