Written by Noluthando Mkhize
To be able to investigate rape cases, most would agree that you should have skin as tough as a rhino's.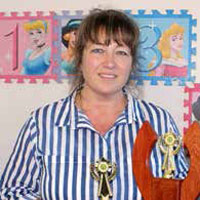 Investigating rape cases for a living is not for the faint hearted. But Warrant Officer Rene Nel, who is one of the country's leading detectives, says someone has to ensure that victims of rape get the justice they deserve.
Nel was recently presented with the Best Provincial and National Investigator Award for her success in investigating crimes against women and children. This relates to cases she dealt with while at the Family, Child Protection, and Sexual Offences (FCS) Unit in 2013.
She was also crowned the Best Detective in the Free State for the 2013/14 financial year.
Based at the Bethlehem FCS Unit in the Free State, she says the best part of her job is when she makes an arrest and gets to tell the victims that the perpetrators are going to jail for the crime they have committed.
"There is no better feeling in the world than when a case has been closed and the wrongdoers get the sentence they deserve."
Nel made headlines when she successfully investigated three different cases of serial rapists which resulted in 13 life sentences for rapes of women and children in 2013.
"I put myself mentally on the crime scene and it also helps immensely to build and maintain a good relationship with the victims and their loved ones. Even when a case has been concluded, victims always keep me informed of how they are doing and coping with their ordeal when we meet in town, for example."
Nel worked for the South African Police Service (SAPS) for 23 years, says getting the award was wonderful - but she was just doing her job.
"I have been a detective for 15 years. I am not used to the attention I have since been receiving."
Along with a trophy, Nel also received an iPad for her outstanding performance.
She says even though she appreciates the recognition, working with rape cases is not easy.
"With cases like murder there is a funeral that makes everything final. When a person is raped, every day they are confronted with humiliation and that's emotional.
"As the detective, you need to be a rock for the victims because you are there throughout the investigation process. You get emotionally drained. I sometimes cry with my victims because I am human too."
Dealing with perpetrators
Her job has made her extra cautious.
"I am more aware of my surroundings which keeps me alert at all times."
After dealing with perpetrators of rape, one thing that she has noticed is that people have lost respect for themselves.
"If you don't respect yourself, how will you respect the females and children next to you? Some of the perpetrators see rape as having power over a person by forcing power over them. I think the key thing, though, is respect for themselves."
"When I talk to the perpetrators, some of them do not feel guilty, others are shy and remorseful and others do not show any emotion – those are the worst."
She adds that there was a habit among young people of misusing the word rape.
"For example a young woman would come home late after a night of drinking with her boyfriend and the next morning the easiest thing to tell her parents is that they were raped on their way home just to stay out of parental trouble.
"People like this make me angry because they waste the time of police officers when we could be working on more serious cases. Another thing is that when a victim comes in and says they have been raped and I can tell if there are loopholes in the case but I cannot judge them unless I have all the evidence and look at all angles of the case."
She said with regards to child abuse, it was very important that parents know exactly where their children are at all times.
Nel believes the government is doing a lot in terms of educating people about sexual violence.
"It's up to the community to use this information, government can only do so much."
Nel, nicknamed Mathabo (which means woman of happiness in Setswana) in honour of her bubbly and strong personality, says after so many years of serving, she is grateful for the recognition.