Written by Maselaelo Seshotli
Bettah Tarea's idea to start a cooperative in her community some six years ago is proving fruitful.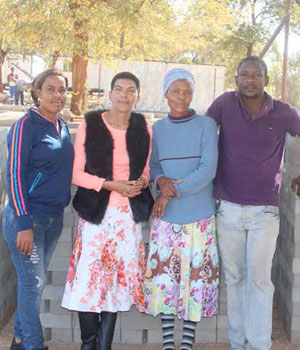 Aganang Brickmaking Cooperative was registered in 2008 and is run by four women and a man in Thabazimbi, Limpopo. Over the years it has helped create jobs in the community.
As a manager of the cooperative, Tarea has taught other cooperative members the skills she acquired while working at Bophelong Project, and the cooperative continues to grow from strength to strength.
"Starting the cooperative was not easy because we had no funding and we had to use money from our own pockets for material," said Tarea.
Aganang Brickmaking Cooperative started by using land belonging to the municipality.
Josephine Sekgwatlhe, a member of the cooperative, said since the municipality granted approval to use the land, their business started to grow.
The Limpopo Economic Development Agency (Leda) supplied the cooperative with an Iveco vehicle for transportation and one moulding maxi-brick machine.
Leda also provided the team with business management workshops and business cards.
"It did not end there. More people were impressed with the work done here at Aganang and help kept coming from every direction," said Tarea.
The Department of Trade and Industry (dti) also came on board and bought a truck for the cooperative worth R300 000.
Grace Taree, also a member of the cooperative, said the truck is used for delivery purposes and collecting materials.
The cooperative also received help from private companies. Rhino Minerals provided material and resources, and Kumba Iron Ore sponsored material and resources to help accelerate production and grow the business. In 2010 Anglo American gave Aganang Brickmaking Cooperative a contract to build a road in Thabazimbi.
Today the cooperative employs five permanent and four part-time workers.
The cooperative produces up to 5 000 paving bricks and 3 000 to 4 000 maxi bricks daily.
"When the machines are all connected with the same moulding tray they can produce close to 17 000 bricks daily," said Tarea.
Tshepo Gabolelwe (29) started working at Aganang Brickmaking Cooperative in 2009.
"Working here is nice as I feel free and enjoy what I am doing," said Tshepo.
The cooperative is a good example of how government and a dedicated group of people can work to change the lives of community members.
The dti spokesperson Sidwell Medupe said the department prided itself on having supported the Aganang Brickmaking Cooperative.
"The department has spent millions [of rand] through the Cooperatives Incentive Scheme to help members of cooperatives grow their enterprises by increasing their production, competitiveness and quality of their products and services," he said.
He mentioned that future plans for the cooperative included owning their own land, having bigger offices and storage, and supplying to well-known companies.