The Devon Impumelelo Development Centre (DIDC) has made it easier for people in Devon, Gauteng, to access information without having to travel long distances.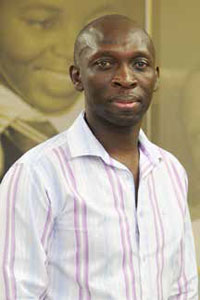 The centre was registered in 2012 as a non-profit organisation and has partnered with the departments of social development and rural development and land reform to help the community access information and infrastructure normally found in cities and big towns.
"People had to travel long distances to get assistance with certain information," said Mashele Lukhele, who is the Chairperson of the DIDC.
The centre is divided into four functions - entrepreneurial programmes, social programmes, business programmes and information, and referrals.
The entrepreneurial pillar has two components – brickmaking and carpentry.
The social pillar has programmes that assist the community with life skills such as managing finances or dealing with the struggles of life in general.
"We have workshops for drug and alcohol abuse, teenage pregnancy and general life problems. We sometimes call social workers for assistance," said Lukhele.
The business pillar has programmes that help the community with computer skills.
"We teach them how to use the computers and then they are able to use these skills to better themselves."
The information and referral pillar offers the public information on government programmes.
"If you want assistance with something concerning government, we refer you to specific bodies in government, for example if you want to know about ID, SASSA, basically anything concerning government."
This centre has computer facilities for people who want to access information, do homework and look for work.
The computer centre is also used as a training centre for those who want to become computer literate.
"We teach them computer skills, for example how to use the Internet, email and Microsoft Office. We also test them to see if they have learned anything.
"We do not have an age limit, everybody is welcome to learn."
The DIDC has six permanent staff members and six people on learnership from the community.
A group of Grade 10 learners, who spoke to Vuk'uzenzele, were happy about the services they get at the centre.
"It helps us a lot, because we get our past exam papers from this centre. It also helps us with our homework assignments."
Project Coordinator Koena Matlala from the Gauteng Department of Rural Development and Land Reform said Devon was identified as a Comprehensive Rural Development Programme (CRDP) site in 2009.
The CRDP aims to mobilise and empower rural communities by, among other things, addressing issues such as underdevelopment, hunger, poverty, joblessness, lack of basic services and redistributing 30 per cent of the country's agricultural land.
"The centre has really helped the community in a big way and there are many centres like it in other rural communities, where people cannot access information as easily," said Matlala.