A Re Itireleng Trust is giving visually and physically impaired people in Ga- Rankuwa, north of Pretoria, the opportunity to gain skills and live better lives.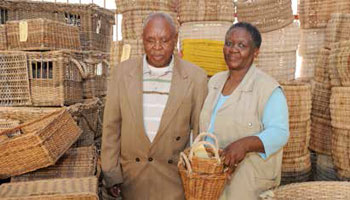 A Re Itireleng means 'let's do it ourselves' in Setswana. The trust was established in 2010 as a non-profit organisation. Their workshop trains mainly visually and physically impaired people in sewing, knitting, mesh-fence manufacturing, and the production of cane furniture and baskets.
The chairperson of the trust, John Sechogo, says the name of the trust was inspired by the fact that people with disabilities are also able to do anything they decide to do.
"Just because we are blind does not mean we cannot do things for ourselves," he says.
Alina Matsapola, the workshop manager, says of the 82 people working at the workshop, 80 per cent of them are blind.
The centre has four sections for manufacturing cane furniture, weaving baskets and furniture, producing mesh-wire fencing and sewing.
Cane furniture
The cane is first boiled and shaped accordingly, and then taken to the furniture department for further development. Furniture that needs to be woven is then taken to the weaving section where they place a design and pattern on the bare furniture.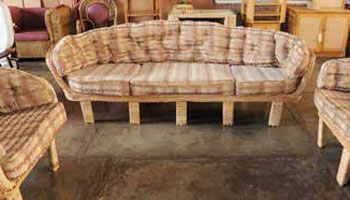 Alfred Bokaba, an employee in the furniture section, joined A Re Itireleng in 2010. He lost his eyesight in 1979 after a botched operation. He says through A Re Itireleng he is able to do something with his hands to improve his life and not sit at home feeling helpless.
"I am able to earn money to buy a few items at home. I am also able to do something for myself and put food on the table," he says.
In the weaving section baskets are formed and shaped by individuals, mostly young people, who are all completely blind. This section also does furniture weaving if needed.
Khazamula Shokane, a trainer at the weaving baskets section, lost his eyesight in 1966 due to measles.
He has been working for A Re Itireleng since 2010, and trains and motivates the youth.
"I always tell them that being blind is not the end of your life. I can do anything and everything, except drive," he says.
The mesh-wire fencing section is where fences are made by partially blind and blind individuals who operate a fence-making machine.
Lucas Kopaopa, who lost his eyesight in 1975 also due to measles, joined A Re Itireleng in 2010. He is partially blind.
"I enjoy working here at A Re Itireleng, it keeps me busy," he said.
In the sewing section, partially and completely blind women produce cushions for the furniture and baskets made at A Re Itireleng.
Bessie Sekatane, who lost her eyesight due to a cataract, works at this section and is a switchboard operator. Sekatane also teaches classes to visually impaired people.
Sechogo says he wishes for the centre to be around for a long time to help people live fulfilling and productive lives.
The trust is supported by the Gauteng Department of Social Development, which assists financially, and the Department of Rural Development and Land Reform, which provides raw materials.
Senior Project Officer at the Department of Rural Development and Land Reform, Meschack Mabudusha, said the A Re Itireleng Trust was an inspiration to the community.
He added that the lesson others could learn from the trust was to provide opportunities for all people, regardless of the challenges they faced.