Written by Mokgethwa Ngoepe and Amulekani Chauke
Small Claims Courts are instrumental in ensuring that an accessible and user-friendly justice system is a reality to people.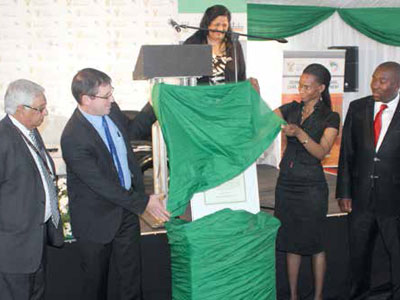 This was according to the Deputy Minister of Justice and Constitutional Development, John Jeffery, when launching the Khayelitsha Small Claims Court, in Cape Town.
Small Claims Courts are used to settle minor civil disputes and claims between parties without representation by an attorney, in an informal manner.
An amount not exceeding R15 000 can be claimed at the Small Claims Court. Before 2010, Small Claims Courts could only deal with cases involving small civil claims of R7 000 and below.
The jurisdiction of these courts was further increased to R15 000 which was gazetted on 1 April 2014.
"The Small Claims Courts are an important component of the programme of the Department of Justice and Constitutional Development.
"They are front line courts because they are at the [centre] of our people's needs for an accessible, user-friendly justice system," he said.
The Deputy Minister said the department aimed to have such courts open in every magisterial district around the country in a bid to take service delivery to the doorstep of all South Africans.
He told Khayelitsha and other Western Cape residents, who attended the launch, that out of the 23 courts that had already been established, eight were in the province.
"The Western Cape has 44 magisterial districts and we currently have 35 Small Claims Courts in the Western Cape with six additional places of sitting.
"So this means that we have now got 93 per cent of coverage in the Western Cape and in order to be 100 per cent compliant, we need to establish nine new Small Claims Courts."
He said in 1994 there were only 120 Small Claims Courts nationwide, but they were mostly in former white areas.
Currently there were 316 Small Claims Courts across the country and, according to the Deputy Minister, the department aims to have one court of this kind in each of the country's 393 districts.
"So we are fast approaching our goal of having a functioning Small Claims Court at each of South Africa's magisterial districts.
"The majority of the new courts and the places of sitting are in rural areas or former black areas.
"Accessible justice is more than simply building or refurbishing courtrooms. It is about making the entire experience easier and more user-friendly.
"Going to court to enforce one's rights does not have to be a daunting and overwhelming experience," he said.
Speaking on behalf of residents, Ndithini Tyhido, the chairperson of the Khayelitsha Development Forum, said the opening of the court showed that government was serious about service delivery and about improving the lives of all South Africans.
Deputy Minister Jeffery also launched the Howick Small Claims Court in KwaZulu- Natal and added that such courts cater for about 9,6 million of the province's population.
"This province has 53 magisterial districts with 11 additional sittings, and 42 Small Claims Courts."
He added that the department had revived another seven inactive Small Claims Courts in the region since December 2009.
"We want to thank all the people who dedicated their time to serve as commissioners in our Small Claims Courts and to serve on the Advisory Board, free of charge.
"These courts work well because of the tireless efforts by these commissioners as they provide excellent services, not only to the department, but to the ultimate recipient of these courts, the public."
Currently, there are 1 750 commissioners countrywide, of these 1 465 are male, and 285 are female.