The Small Enterprise Development Agency Jewellery Incubator in Limpopo is helping entrepreneurs in and around Polokwane to realise their potential and create jobs.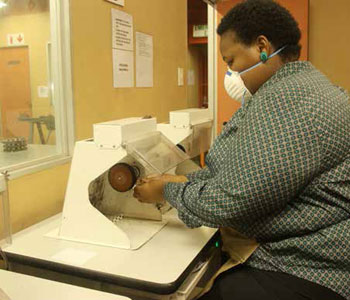 The incubator offers learnerhips targeting young people aged between 18 and 35 with a Grade 12. It runs for 18 months and participants receive a monthly stipend. The incubator helps entrepreneurs through workshops, gives access to the market and pays for their participation at exhibitions.
Among the beneficiaries are entrepreneurs Mulayo Serakoana and Anna Maponya.
Although the two women come from different backgrounds, their common goal and determination to make a success of the opportunity given to them by the incubator brings them closer.
Serakoana dropped out of the University of the Witwatersrand while Maponya never had a chance to study at a tertiary institution.
"All that we want to do is make a living and make a success out of our business. The world is not open to entrepreneurs and people who are starting businesses, but we are determined to make it," vowed Serakoana in an interview with Vuk'uzenzele at the incubator's office in Polokwane.
After dropping out of university, life was difficult for Serakoana. One day she walked into a bead shop and her love for beads was ignited.
"I was in that shop for over two hours just looking and admiring what was in there. It was only afterwards that I realised that I had a love for beadwork."
She says she asked the shop owner in Queens Corner in Queenswood, Pretoria, to help her to do beadwork and that is how she got involved in the jewellery business.
Her business, Seremane Creations, makes jewellery such as necklaces, bracelets, rings and body chains. Her items sell from R120 to R250.
Her involvement with the incubator started when she saw an advert for a new centre opening in Polokwane to train people in jewellery making. She sent her application and profile, and was chosen to be one of the beneficiaries.
Maponya's story on the other hand is different to that of Serakoana. Her love for beadwork started early in life.
"I've always had a love for beads. Even when I was growing up, I used to wear them," she says.
She says her involvement with the incubator has given a chance to grow her business and do what she loves the most. Her beadwork sells for between R80 and R240.
Business Development Officer at the incubator Mmabatho Malatji says the incubator is responsible for developing the skills of beginners.
"We offer mentoring and coaching and we organise business exhibitions for them to sell their products."
She adds that although there were participants who were dragging their feet, most of them had shown an interest in the programme and their level of interest was satisfactory.
"They've shown some zeal and we are happy with their commitment," she says.